You can't Criticise Obasanjo On behalf Of Ekiti People, APC Tells Fayose
Latest News, News, News From The State
Sunday, December 14th, 2014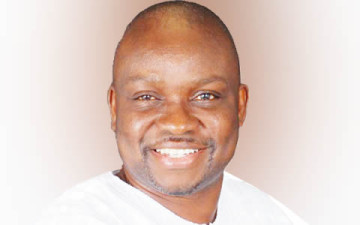 The All Progressives Congress (APC) in Ekiti State has criticized Governor Fayose and his aides' diatribes against former President Olusegun Obasanjo on behalf of Ekiti people, saying they spoke in their individual capacity or at best on behalf their party.
Reacting to Fayose's condemnation of the visit of five PDP Governors to former President Obasanjo at his Abeokuta home and his subsequent outbursts, including calling for his expulsion from PDP and imprisonment over alleged contempt of the court, APC State Publicity Secretary, Taiwo Olatunbosun, said Fayose is not qualified to speak on behalf of Ekiti people in a clearly political squabble by the PDP gladiators.
Olatunbosun explained that Owoseni Ajayi, who wrote as the Attorney-General criticizing Obasanjo on behalf of the state for not obeying a court order on his book publication, is not known to law as the Attorney-General of the state because he was not screened and confirmed by a properly constituted House of Assembly, stressing that he remains a Commissioner-nominee until he is legally screened and confirmed by the assembly.
The APC spokesman warned that Fayose and his aides should not turn PDP's internal affairs into the state affairs, as that would be a misrepresentation of the good people of Ekiti State.
His words: "If we agree without conceding that he is an Attorney-General, he is at best a busy body in the matter between Obasanjo and Buruji Kashamu concerning the launching of his book
"What is the business of a state government in a matter between Obasanjo and Kashamu that warranted issuing a statement on behalf of the entire citizens of a state? The Ekiti APC dissociates the good people of Ekiti State from the statement issued by Ajayi calling for the imprisonment of Obasanjo for alleged contempt of court. "A bed-wetter does not haggle with a dry cleaner. If anybody will criticise anyone for disobedience of court orders, it is not Ajayi who is a product of illegality and his principal a promoter of lawlessness"
"We still remember how Ajayi invited thugs to invade Justice Segun Ogunyemi's court because he suspected a ruling against Fayose in a case of eligibility to contest governorship election. We also remember how Fayose as Governor-Elect supervised the beating of a judge and the secretary of the Chief Judge, tearing of court records and subsequent shutting down of the Judiciary, thus stopping the trial of his eligibility case."
Stressing that Ekiti people would not be drawn into an alleged crime committed by a non-indigene, Olatubosun said that apart from the fact that there was no basis for the diatribes, issuing such a rude statement against Obasanjo confirms the fact that Fayose is protecting the alleged wanted drug baron, who was alleged to have helped in giving questionable victory to Fayose in the June 21 governorship poll.
"We wonder why Fayose should abandon urgent state matters for the defence of a man of questionable character when the man has not even said anything! By his action, Fayose has turned Ekiti State into an enclave of men of shady characters. This is an unfortunate twist of fortune for a state reputed for its honour and integrity, Olatubosun said, adding:
"It is an interesting irony that the people who represent an assault on the rule of law should be the ones accusing others of contempt of court. We respect elders in Ekiti. What Ajayi wrote of Obasanjo is not our collective view and we condemn it in strong terms. The matter between Obasanjo and Kashamu which is still pending at the Appeal court is better left to the judiciary to handle. Ajayi and his principal cannot turn themselves to the interpreter of the law even though they are known to have an aversion for the rule of law.
"Fayose should face the myriad of court cases on his neck. He should stop being busy-body but face serious issues of governance, pay workers' salaries and stop dabbling into matters that cannot bring development to Ekiti State."
Please follow and like us:
Short URL: http://www.africanexaminer.com/?p=20661