Adamawa: Fintiri Absolves Self Of Corruption, Says I Left Over N700 Million In State Treasury
Latest News, News, News From The State
Wednesday, October 22nd, 2014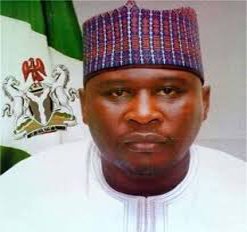 Agabus Pwanagba, Jos
The sacked Acting Governor of Adamawa State, Alhaji Ahmadu Umaru Fintiri, Tuesday absorbed himself of plundering the state to the tune of N18 Billion as alleged by those he described as detractors and political foes.
Fintiri , disclosed this while addressing journalists in Yola.
The former Acting Governor in his defence said, "my administration received an income of over N21 Billion throughout my three months tenure, while over N20 Billion was expended from June to October, 2014.
He also disclosed that he left over N708 million in the state coffers, and he followed due process in the awards of projects during his three months tenure against media reports that he plundered the State to the tune of N18 Billion.
"When I assumed leadership of the state, the financial position of the state was in a bad shape and the state was heading to a total collapse due to high level of indebtedness.
Adding that he had to put measures in place to prevent the imminent collapse the State's economy.
The lawmaker alleged that the State was owing over N12.8 Billion to a bank, and for over three years the state government had been paying salaries through overdraft when he came on board as the Acting Governor of the State.
"The monthly interest on overdraft dropped from N100m monthly to zero naira ,the repayment of term loan also dropped from N1 Billion to N311m monthly and the repayment of overdraft dropped from N3.5 Billion.
He lamented and alleged that the state was made vulnerable to exploitation by the bank.
"Furthermore, it has been established that the bank charged the account of the State by over N11 Billion in interest and other charges.
He said on assumption of office, the administration engaged the services of professionals who helped saved the state from drowning in debt and brought about financial stability.
Fintiri, maintained accountability is the hallmark of leadership, while in power and out of power adding that he had accountable.
Adding that other expenditures incurred by the administration include N500m as constituency projects, N539m counterpart funding, and N247m as vehicles allowances among many others.
He said he left behind the over N700m in the government purse when he departed the government house.
Short URL: https://www.africanexaminer.com/?p=18986