Chime's Kinsmen Dismiss Their Purported Endorsement Of Ekweremadu
Latest News, News, Politics
Wednesday, October 29th, 2014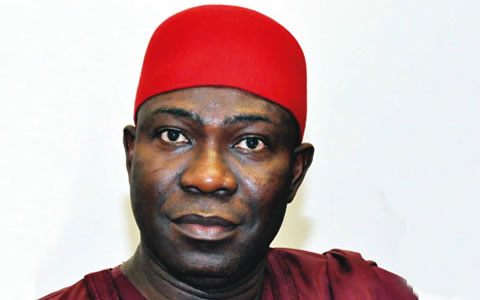 IGNATIUS OKPARA, Enugu
Deputy Senate president, Ike Ekweremadu's 2015 support base has received a knock, as kinsmen of Enugu state Governor, Sullivan Chime in Udi council Area, dismissed as false their purported endorsement of the senate number two man.
They described as "utterly ridiculous" media reports claiming that the people of the Area, had declared their support for the DSP, to retain the Enugu West senatorial seat in 2015.
Similarly, the Enugu Professionals Forum (EPF) has described the said endorsement as deceitful, mischievous and laughable."
They added that the people who purportedly endorsed Ekweremadu were not from Udi and so cannot be called Chime's kinsmen.
Ward Chairman of the Peoples Democratic, PDP in Udi, Ogochukwu Chime, described the purported endorsement report as baseless, describing those behind it as mischief-makers and political desperadoes.
According to a press statement signed by the interim President of EPF, Nebechi, Ugo called the report in question a syndicated fabrication.
It said: "Not only did no such thing happen but the people mentioned in the story are not from Udi and therefore cannot be Chime's kinsmen."
The group said the event where the purported endorsement came out from was not a political gathering but a burial ceremony in the governor's hometown attended by the Deputy Senate President and his friends.
"The story is as false as it is mischievous and ridiculous. How can a burial become a forum for endorsement of a candidate for political office" they asked.
"They claimed it was done by Chime's kinsmen but everyone knows that Chief Mike Ugwu whose name was mentioned as the main speaker at the event is from Affa and not Udi, the other two speakers Anayo Onwuegbu is from Akpugoeze in Oji River Local Government and again by their own admission, Dr Nnamdi Ene is from Obinagu and not Udi, so how are they Chime's kinsmen?"
The EPF also said that leaders of the PDP in Enugu West Senatorial district has earlier endorsed Chime
"That false claim about his kinsmen endorsing another person and wide publication it enjoyed, can only be a ploy to deceive people and deflect the impact of the endorsement given to Chime by the Enugu West PDP."
"This report suggests a very high level of desperation on the part of whoever originated it. It was really clumsy. Not only was it manifestly false but one wonders at what effect it would even achieve when the leadership of the party in the entire Enugu West had met and officially, repeat officially, endorsed Governor Chime for Senate.
"That a group of friends met at a burial in Chime's hometown is of no consequence at all as far as the PDP in Enugu West is concerned, that's why this whole thing is ridiculously."
The Udi ward Chairman in his own said: "Senator Ekweremadu was in Udi to attend a burial with some his friends that was all that happened and nothing more.
"It was not a political event. I am the PDP Chairman in Udi/Agbudu ward and I can tell you that the PDP in Udi/ Agbudu was part of the meeting of the Enugu West PDP that endorsed Governor Chime for Senate, we don't have any other candidate," he stated
Short URL: https://www.africanexaminer.com/?p=19215