Fayos‎e To Fayemi: Don't Use Workers' Salary To Pay Contractors
Featured, Latest News
Wednesday, September 17th, 2014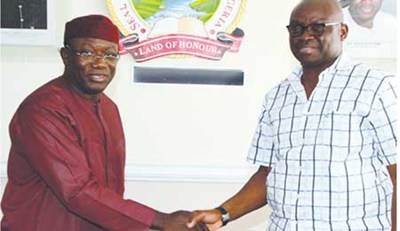 Ekiti State Governor-Elect, Mr Ayodele Fayose, has appealed to the outgoing Governor, Dr Kayode Fayemi, not to use the funds meant for the payment of workers salaries to pay government contractors.
The governor-elect, who stated this in Ado-Ekiti on Monday in a statement by his Chief Press Secretary, Mr Idowu Adelusi, said the Fayemi administration was owing workers months of salary arrears and entitlements.
Fayose, while pleading that workers should not be made to suffer the financial recklessness of the Fayemi administration, urged him to pay everything that he is owing  the workers before leaving office on October 16 this year.
"The governor does not need to rob Peter to pay Paul. He is owing workers in the state backlog of salary arrears and he has not paid them. Instead of paying workers, the administration is focusing on paying government contractors.
"The word of God says a labourer is worth his wages and those who are working for the state must not be denied their dues. The government must not waste further time in paying these hapless workers and save their families from hunger.
"if the government is using statutory allocations and other revenue to pay contractors and the severance benefit of the governor's appointees, them what stops the state from paying workers?,he asked.
The governor-elect said the attitude of Fayemi was like trying to leave needless burdens for the incoming administration.
Short URL: https://www.africanexaminer.com/?p=17547