2014 budget: Gov. Orji Harps on fiscal transparency
Latest News, News
Wednesday, September 11th, 2013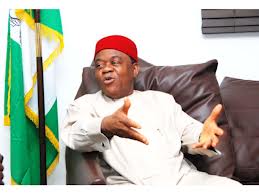 Abia Governor, Chief Theodore Orji has flagged off the 2014 Budget Estimate Defence with a charge on Ministries, Departments and Agencies (MDAs) in the State to ensure that budget data is captured in the required degree of detail, with the source and reason for every transaction identified.
Declaring the session open, the Governor said the measure will assist observers view the budget information in the appropriate context and implored them to show due diligence in the budget process especially as the country moves from the current cash to public sector Accounting standard and project to programme based budgeting approach.
He said that the State Government in its effort to introduce a lasting legacy in the fiscal management process in the State consciously signed in with the comity of state's in the country to evolve a budget process which has become robust in line with international best practices.
According to him, the budget defence session will bring about a budget system that is designed for better policy formulation, fiscal planning, budget analysis, accountability, routine financial management and international comparison.
He said that it is customary that this time of the year every administration chart the course toward the realization of its development goals and objectives of the next fiscal year, maintaining that the current budget code named Budget of Hope is being implemented guardedly to ensure that the objective and thrust is attained.
Governor Orji maintained that it is for that reason that the State is witnessing the high level of infrastructural and social development that are on in the state, adding that the truth that Abia State is making giant strides to emerge as one of the strongest economy in Nigeria is not in doubt given the infrastructural foundation laid by the current Government.
He appreciated the Planning Commission for commencing the 2014-2015 budget process on time as well as the MDA's for preparing their proposals in line with the call circular.
In her welcome speech, the executive secretary, Abia State Planning Commission, Mrs. Adanma Iheuwa assured that the 2014 Abia State budget would be programme based and capture the MDA's proposals and reflect government policy priorities within the limit of the State's fiscal targets.
She said that Abia is among the first in Nigeria to key into the new approach of the International Public Sector Accounting standard IPSAS for public sector at all levels of government approved by the federal government by the adoption of the National Chart of Account as basis for budgeting and accounting.
Short URL: https://www.africanexaminer.com/?p=810