2019 Presidential Election: Group Drums Support for Professor Hagher
Featured, Latest News, News Across Nigeria, News From The State
Sunday, February 18th, 2018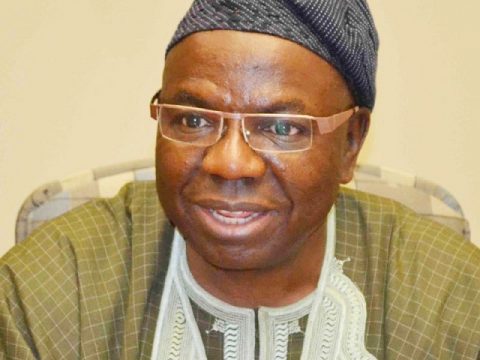 Photo: Prof. Iyorwuese Hagher
(AFRICAN EXAMINER) – As Preparations for 2019 General Elections continue to gather steam, pro-democracy youths organisation under the umbrella of United Youths Coalition of Nigeria has identified qualities that the next President of Nigeria should possess.
The Youths Organisation said the next President must demonstrate the ability to lead the country from its present poor economic level of pre-modernity to hypermodernity.
Addressing Journalists  over the weekend in Abuja, Chairman of the group  Engr. Robert Chenge added that the elected President in 2019 must show evidence of youth mentoring as a teacher and have a robust testimony of  youth resources.
The Chairman of the group also noted that leadership of the country in the last 20 years of democracy have not met the expectations of Nigerians hence the  need for new crop of Leaders with bright and focused minds.
The Youths organisation condemned in the strongest terms the willful abuse of democracy by the politicians and ruling class since return of democracy in 1999.
"We totally condemn the soaring growth of pre-modernism, cronyism, and the shameful promotion of nepotism and violence against the citizens. Governance today has become a charade and a racket far removed from the original noble vision of founders", the group said.
The organization explained that the original vision of the nation's founding fathers have been misplaced by politicians who were interested in paraphernalia of office rather than the interest of citizens, a situation, they posited, gave credence to corruption, cronyism and nepotism.
According to the group, the 21st century Nigeria needed to key into global economy by driving virtues which  Africans were known  for, while tipping a Playwright and a Professor of Theatre for development, Iyorwuese Hagher to contest 2019 elections.
The group believes that Prof Hagher would bring his wealth of experience to bear on the polity, noting that his middle belt origin would promote unity, while the nation stand to command huge investment from his ambassadorial experience.
Meanwhile the Youths organisation called on the entire youths in the country to take part in the ongoing voters registration exercise ahead of 2019 general elections.
Short URL: https://www.africanexaminer.com/?p=42726