25 Lagos Students Collapse After Inhaling Deadly Chemical
Ayo Balogun, Breaking News, Featured, Latest News, News
Thursday, October 31st, 2013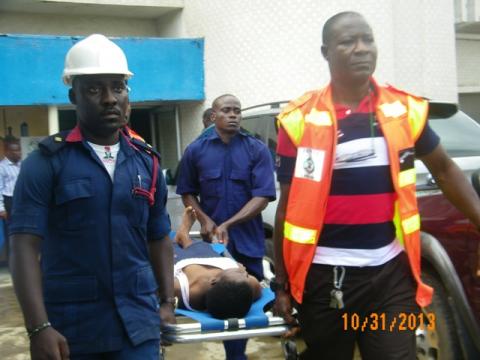 Ayo Balogun, Lagos
At least, 25 students of Ogba Junior Secondary School, Lagos, Nigeria have collapsed after inhaling a chemical waste discharged into drainage near the school. 
The students were rushed to a hospital after they inhaled the emission from a toxic chemical. Officials of the Lagos State Government rushed the unconscious students to the Blue Cross Hospital, located opposite the shopping mall for urgent medical attention.
African Examiner gathered that the discharged chemical was allegedly released into the drains by Bizcircuit Photo Laboratory situated at Ogba shopping plaza. The incident was said to have occurred around 12.40 pm on Thursday while the students were receiving lessons in their class rooms.
Anxiety mounted when the incident occurred as there was pandemonium in the school. Many parents and guardians ran to the scene to rescue their children before they inhale the dangerous chemical.
Four students who were in critical condition were transferred in a Lagos State Emergency Ambulance marked LA 156 A08 to the Lagos State University Teaching Hospital, LASUTH, in Ikeja.
Officers of the Lagos State Emergency Management Agency, LASEMA,Lagos State Fire and Safety Services, Lagos State Ambulance Service (LASAMBUS), Lagos State Environmental Protection Agency, (LASEPA), Rapid Response Squad (RRS), Nigeria Security and Civil Defence Corp and officers from the Ogba Division of Lagos State Police Command were at the scene of the incident to rescue students.
Head of Logistic, LASEMA, Mr. Femi Giwa said "we received the distress call through the emergency call number of the State 767/112 and through phone calls from concerned citizens of students of Ogba Secondary School who went into coma after inhaling some offensive and shocking smell which is allegedly said to be chemical waste from a Photo Laboratory in a Shopping Complex behind the School.
"Out of the affected 25 students, four were in critical condition and presently responding to treatment, and have so far been moved from the Blue Cross Hospital Ogba to LASUTH for further treatment."
He said that after the evacuation, his team with police officers conducted general assessment of the area and discovered that certain liquid chemical with offensive odour was stored and use for production on the first floor of a Photo laboratory in the Complex.
Giwa stated that the office had shut down while the workers have also been invited by the police for questioning, while assuring that proper investigation would be carried out to ascertain the chemical analyses and other issues surrounding the incident.
The Director, Lagos State Fire and Safety Services, Mr.  Rasaq Fadipe, said officials assisted in the rescue to avoid the spread of chemical fumes, while warning residents to be safety conscious, as most fire incidents in the state were due to care free attitudes of most residents.
Short URL: https://www.africanexaminer.com/?p=4114