3 Die As 2 Buildings Collapsed In Lagos
Featured, Lagos, Latest News, News
Thursday, September 26th, 2013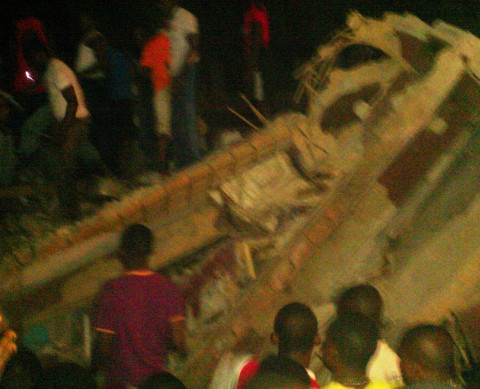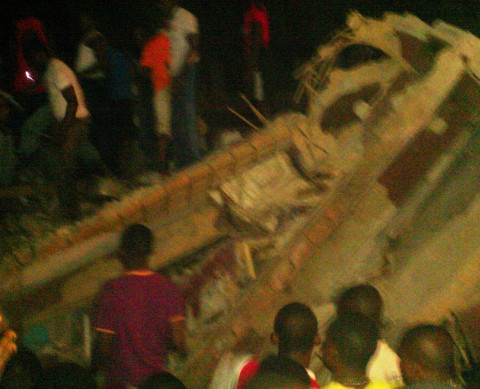 Tragedy struck again on Lagos Island area of Lagos State, Nigeria as two buildings collapsed leaving three people dead and several others injured.
A four year-old girl, an 82 year-old man and a middle aged Igbo trader were among those killed when the dilapidated 3-storey building collapsed on another six bedroom bungalow structure beside it.
Also, four children along with an old woman, three girls and two middle aged men were rescued by youths from the debris of the collapsed building.
According to eye witness, the 3-storey building at 15 Alli Street, Lagos Island cracked and collapsed at about 09.55pm and fell on top of the six bedroom bungalow situated at 13 Alli Street, leading to its collapse, killing the old man and the Igbo trader who was sleeping in his shop under the dilapidated building.
It was gathered that the 3-storey building had been marked for demolition by officials of the Lagos State Government and had sent out the occupants before the structure finally collapsed.
An eyewitness, who craved anonymity said he was buying roasted meat popularly called 'Suya' from a Hausa man at the front of the collapsed building when he heard a loud bang as if there was a bomb and saw heavy bricks from the house flying about.
"I and the Hausa man selling Suya managed to escaped, but the Hausa man's junior brother who was trying to pack their loads sustained fatal injury on his head. We ran away from the spot and returned after five minutes to see what happened," he said.
Five rescued children were immediately taken to Massey Children Hospital for prompt medical attention where one of them who sustained fatal injury on her eye died, while two girls who sustained injuries were taken to the Lagos General Hospital while others whose injuries were minor went to a nearby chemist for treatment.
One of the residents of the affected bungalow, Mr. Joseph Owoeye told stated that majority of them who escaped the incident were away from home watching European football match somewhere.
"I usually sleep around 9.30pm, but today's (Wednesday) night, I just went out to buy food and to watch Arsenal football match at Bamgbose Street along with some boys living in our house when the incident occurred," he said.
Police from the Area 'A' Command, Divisional police stations on the Island, Commander of the State Security outfit, Rapid Respond Squad (RRS), Hakeem Odumosu and his men, as well as members of Pashi/Willoughby, Olosun, Obadina, and Alaagba Community Development Associations (CDAs), among other were on ground for the rescue operation.
Officials of the Lagos State Emergency Management Agency (LASEMA), Fire servicemen and a Lagos State Ambulance Service, LASAMBUS later came and joined others for the rescue operation, while a heavy duty caterpillar was brought to exhume the remains of the Igbo man which had been buried in the rubbles from the collapsed 3-storey building.
Reacting to the incident, a member of the Lagos State House of Assembly, Hon. Akeem Masha representing Lagos Island Constituency I described the incident as sad and sympathetic, urging Lagosians to always be the eyes of the government by reporting any dilapidated structures in their areas to State or Local Governments for prompt action.
"We should not continue to wait or shy away from such until many innocent lives were lost to somebody's selfishness. Let us all work together and salvage our state from the shylock developers", he remarked.
Dr. Femi Oke-Osanyintolu, General Manager, LASEMA, said two people died in the collapsed building contrary to the three reported
"The building collapsed on top of a bungalow next to it. Emergency response was activated with all stakeholders on ground. 10 people were evacuated and taken to the General Hospital and Massey Hospital.
"Two dead bodies were recovered and have been deposited in the morgue as emergency response is still ongoing," he stated.
Short URL: https://www.africanexaminer.com/?p=1783