5 Companies, Oil Bunkering Hideout, Shops Shut In Lagos
Featured, Latest News, News
Sunday, June 29th, 2014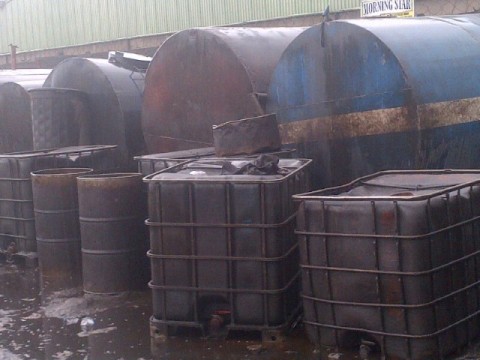 No fewer than five companies, several shops and a place where illegal oil bunkering is being carried out were shut down at the weekend in Lagos over gross environmental degradation.
The closure of the affected places was carried out by officials of the Zero Tolerance Department of the Lagos State Ministry of the Environment, escorted by policemen from the Lagos State Taskforce on Environmental and Special Offences (Enforcement) Unit.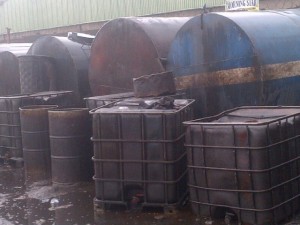 Areas where the enforcement were carried out are Surulere, Ijesha, Cele, Ballet, Anthony and Jibowu. The enforcement was led by the Assistant Chief Scientific Officer, Ministry of the Environment, Ademola Adegbite.
Bertola Machine Tool Limited on Ikorodu Road was shut down for degrading the environment with heavy duty equipment stationed along the road. The company was shut after it failed to comply with the notice served him by the Environment Ministry.
Two travelling bus companies were shut down for degrading the environment. They are Bonway Motors Nigeria Limited and Ifesinachi Motor Industry Nigeria Limited.
Bonway Motors was shut for parking and loading on walkway and roadside while Ifesinachi was shut for deliberate channelization of human faeces into drainage channel. The company has a machine which it used in pumping the faeces right into the drainage channel. After failing to comply with the abatement notice served, the company was shut down.
A car dealer company and Transglobal Logistics Company, dealing in caterpillars and other heavy duty equipment were shutdown on Oshodi-Apapa Expressway for parking their vehicles on the walkways and did not abate the nuisance after they were served, leading to their being shutdown.
Three shops selling chemicals were shutdown in the same area for erecting their structures on road setback.
An illegal oil bunkering joint along Lacasera Road, Alaba was shut down for environmental degradation. The illegal bunkering joint has total degraded the environment with diesel and fuel. Over five shops behind the bunkering joint were also sealed for not complying with the environmental laws of the state.
According to the Commissioner for the Environment, Tunji Bello, government had warned that it would no longer tolerate illegal activities of people degrading the environment, vowing to shut down any shop, company and others that breached the environmental laws of the state.
Short URL: https://www.africanexaminer.com/?p=13679