8,000 Nigerians Applied for Visa to France in 2015 –-Envoy
Latest News, News
Tuesday, January 26th, 2016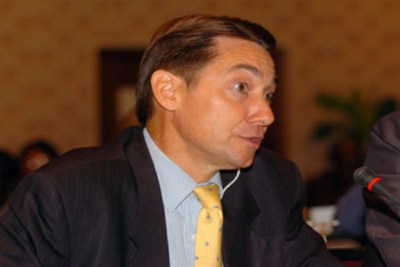 By Eric Ojo, Abuja
BALTIMORE, MD (AFRICAN EXAMINER) – The Embassy of France in Abuja received about 8000 applications in 2015, the Ambassador of France  to Nigeria, Mr Denys Gauer has said.
Mr. Gaur, noted that last year's figure surpasses previous records attained in the Visa Application profile of the Embassy, thereby signifying an increase of 400 per cent compared to that of 2012 fiscal year.
Speaking at the official launch of the VFS Global Visa Application Centre for the Embassy of France in Abuja, the French envoy observed that the increase is a direct consequence of the deepening of the relationship between France and Nigeria.
"Such an increase in volume is expected to continue in the upcoming years. We foresee a 20 per cent annual increase in visa applications. Therefore, to remain efficient new measures are required", he said.
He further explained that the trend is equally traceable to the friendship between the citizens of both countries, adding that France has witnessed a significant increase in Schengen visa applications in Nigeria, over the last three years.
Mr. Gauer said the establishment of an outsourcing had become a necessity, noting  that the inauguration of the Visa Outsourcing Center was aimed at facilitating mobility between Nigeria and France as well as amongst all Schengen states.
In response to this challenge, the Embassy of France in Abuja, according to him, agreed to partner with VFS Global to manage an externalised center in order to facilitate the application process for those travelling for business or tourism purposes.
"The Visa Outsourcing Center in Abuja, just like that of Lagos, will be able to offer a personalised reception, assist in collecting applications and give adequate information on the procedures as well as notify applicants on the statusof their passports via messages or email", he further explained.
He also noted that Consular diplomacy remains an absolute priority for the Embassies of France all around the world, assuring that with the new partnership, applications will be treated rapidly and handled with utmost attention.
"Our primary objective is to render an impeccable service to our visitors, whatever the increase in their number and we will ensure that we offer the best quality service to our Nigerian friends wanting to visit France", he stressed.
The envoy therefore thanked the Country Manager of VFS Global in Nigeria, Mr. Deepak Iyer, for his collaboration and for the work done by his team, so far.
Also speaking at the occasion, VFS Global Chief Operations Officer (COO) for Africa, Mr. Jiten Vyas, said it is an honour for VFS Global  to extend its services for the Government of France to applicants in Abuja.
Mr. Vyas added that VFS Global has been serving the French Government since 2004 and currently serves the client in 16 countries from 49 visa application centres globally.
He further explained that after Lagos, Abuja is now the second city in Nigeria from where applicants can apply for a visa to France.
He said applicants for visas to France can now visit the VFS Global centre in Abuja to submit visa applications and enroll for biometrics in a modern, conveniently located and comfortable environment.
"The opening of this facility serves the needs of the ever-expanding travel trade in this region and we are confident the centre in Abuja will be successful in providing enhanced end-to-end visa application services, including biometrics enrolment, fgor visa applicants at our centres", he further stated.
Short URL: https://www.africanexaminer.com/?p=29731