Abacha's Ex-Intelligence Chief To Head Probe Committee on Abducted School Girls
Latest News
Saturday, May 3rd, 2014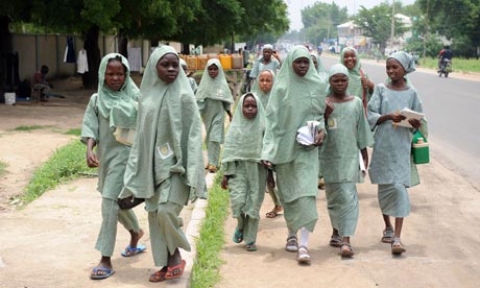 Oyewale Oyelola
Federal government in its effort to rescue over 200 girls of the Government Girls Secondary School, Chibok, Borno State kidnapped by Boko Haram has appointed Retired General Ibrahim A. Sabo as the Chairman of the fact finding committee set up by President Goodluck Jonathan.
According to the list of committee members released by the Secretary to the Government of the Federation, Chief Anyim Pius Anyim, the Permanent Secretary (Special Services Office) OSGF will serve as secretary to the committee.
The composition of the committee include: Barrister Femi Falana (SAN), Hajia Hawa Ibrahim, Hajia Fatima Kwaku, two representatives of National Council of Women Societies (NCWS), two representatives of the All Nigeria Conference of Principals of Secondary Schools (one whom shall be a female), two representatives of the National Parents Teachers Association, two representatives of the Nigeria Police, two representatives of the State Security Service and two representatives of the Nigerian Army.
Others are one representative of the Federal Ministry of Information (who shall be the Committees' Spokesperson), one representative of the Federal Ministry of Justice,three representatives of Borno State Government (two of whom, preferably, shall be women), two representatives of the Nigeria Union of Journalists, one representative of the United Nations, one representative of ECOWAS (who shall be a woman).
The terms of reference of the committee according to Anyim include:
To liaise with the Borno State Government and establish the circumstances leading to the School remaining open for boarding students when other schools were closed
To liaise with relevant authorities and the parents of the missing girls to establish the actual number and identities of the girls abducted
To interface with the Security Services and Borno State Government to ascertain how many of the missing girls have returned
To mobilise the surrounding communities and the general public on citizen support for a rescue strategy and operation
To articulate a framework for a multi-stakeholder action for the rescue of the missing girls and
To advise Government on any matter incidental to the terms of reference.
Brigadier General Ibrahim Sabo (Rtd) was Director of military intelligence during the regime of late Head of State of Nigeria, General Sani Abacha.
Short URL: https://www.africanexaminer.com/?p=10779