Abducted Girls: Christian/Muslim Women Protest In Plateau
Agabus Pwanagba, Featured, Latest News, News From The State
Thursday, May 8th, 2014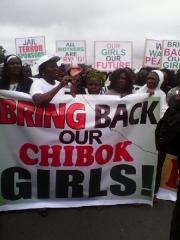 …Group Urges FG To Enforce Diplomatic Sanctions Against Neighbouring Countries
Agabus Pwanagba, Jos
A group under the aegis of Plateau Women Solidarity Movement (PWSM) has called on the Federal Government to enforce diplomatic sanctions on neighbouring countries that sponsor and export mercenaries into the country for terrorists activities.
Pastor Esther Ibanga read the Communique signed by Hajiya Khadijah Hawaja and Mrs Elizabeth Rimdams on behalf of the women.
It reads, "Neighbouring countries who sponsor and export mercenaries to harm Nigeria must face diplomatic sanctions as well as other internationally sanctioned penalties.
The Women who came out in their hundreds, wearing black dresses and carrying palacards were protesting the abduction of over 200 school girls in Government Girls Secondary School Chibok in Borno State, by the Boko Haram Sect.
The women, who trekked about five kilometres to the Government House in Rayfield,  Jos were wailing and crying, as they were accompanied by armed policemen, where they were received by the Governor of the State, Jonah Jang.
"Politicians must stop playing politics with the destiny of Nigerians and this great nation.
The communique urged government, "To act expeditously with whatever support within and outside the country to recover and bring back the abducted girls.
"It is unacceptable to Nigerian women that our daughters have become war trophies in a conflict that should have been nipped in the bud ages ago. ACT NOW!
They further stated that as Christian and Muslim women in Plateau State, we express our, "anguish, outrage and sorrow over the terror unleash against the most vulnerable segments of our nation.
Some of the placards they carried read: "Our Girls Our Future, Jail Terror Sponsors, All Mothers are Crying, Nigeria Govt Engage Chad, Niger and Cameroun, Bring Back Our Chibok Girls", among others.
Meanwhile, Hajiya Khadijah Hawaja who spoke on behalf of Muslim women said, "This is against all of us, 170 million Nigerians, is not a fight against Christians, it is a fight against Muslims and Christians, so they have declared war against all of us and we must all stand together.
"Shekau said he has taken these girls because Islam permits him to do that, we denounce and disclaim what he is doing. That is not the position of Muslims on the Plateau, Nigeria. He has declared war against Nigerians and God. We call on to God to take over this fight.
"We must stand united against this evil.
Responding, the Deputy Governor, Mr. Ignatius Longjan who represented the Governor assured the protesting women that, government is making frantic efforts in ensuring that the girls are brought back.
He assured them that their communique will be delivered to President Goodluck Jonathan.
Short URL: https://www.africanexaminer.com/?p=11046