Abia Ex-Political Appointees Condemn Uzor Kalu's False Publications Against Governor Orji
Featured, Latest News, News From The State
Tuesday, September 9th, 2014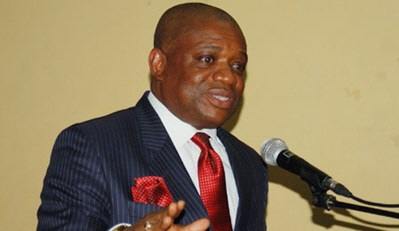 By Funmilayo Omidiji
The Forum Of Abia State Political Office Holders (1999-2007) has decried the serial editorial publications in a national daily (the Sun Newspapers) at the instance of former state Governor, Chief Orji Uzor Kalu against the incumbent, Theodore Orji, saying it is impressed with the performance of the present administration.
"The Forum hereby condemned the dubious attempt by the former governor of Abia State, Chief Orji Uzor Kalu to mislead unsuspecting Nigerians and the public by a revisionist scheme aimed at turning the truth upside down through publication of falsehood for selfish reasons."
In a communique issued on Monday and made available to African Examiner, the Forum which observed the publications with dismay and strongly condemned them, applauded incumbent Orji's administration which it stated has transformed the State Capital, Umuahia from the old "glorified village", to the present advanced status.
It commended present administration in the state, for its commitment to Agricultural revolution which it stated among other things, manifested in the establishment of Abia Liberation Farms and the disbursement of One Billion Naira to farmers in the State, which is the first of its kind in the state.
Similarly, the Forum gave kudos to the incumbent Governor for its "unparalleled determination to address youth empowerment, restiveness and crime via various youth empowerment packages which, among other things, have seen thousands of Abia youths, for the first time in the State, smile home with cars, buses and even cash".
The body with 20 former political appointees acknowledged the responsiveness of the present administration on Oil Producing Area Development Commission regarding its response to the plight of the people of Oil Producing Communities, which it noted the previous administration refused to grant their request for such establishment.
It equally pointed out it was excited with the Governor Orji for returning the state to the country's mainstream politics, unlike what it was, between 1999 and 2007 when the State was declared a "pariah state due to unwarranted antagonism and confrontationist approach of the state government".
The former political office holders appreciated the cordial bilateral relationship that had existed between the Executive and Legislative Arms of Government since 2007 till date, which it stressed has ensured peace and development of the 'God's owns' state.
It said it was delighted that now, unlike what was the practice between 1999 and 2007, no political appointee or any person is taken to any juju shrine for a fetish oath-taking.
The Forum commended the ruling Peoples' Democratic Party (PDP) and Governor Orji for their insistence in adherence to equity and fairness, that the next Governor of the state "should be of Abia-South extraction".
It also commended the people of the state for their support to the incumbent Governor, resolve not to be distracted by the antics of the immediate past governor whose administration it contended "was characterized by deceit and only succeeded in pauperizing Abians and leaving them politically and psychologically devastated".
Short URL: https://www.africanexaminer.com/?p=17244