Activists Set For Unrelenting #BringBackOurGirls Crusade
Featured, Latest News, News
Sunday, June 15th, 2014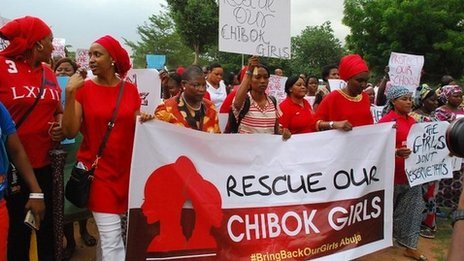 Until over 200 schoolgirls abducted by the insurgents in Chibok area of Borno state are released, Nigerians have been told to expect more and unrelenting protests to demand for coordinated and frantic efforts by the government to ensure the release of the students.
Rallies, processions, demonstrations and prayers in Abuja and other cities across the country have been regular to keep the issue in the front burner two months after the girls were abducted on April 14.
African Examiner learnt that Abuja Coordinator of the "BringBackOurGirls" campaign, Hadiza Bala Usman, regretted the lack of progress in efforts to rescue the hostages from Boko Haram extremists.
"Progress for us is the girls being returned, and the girls are not returned. Of course we are not satisfied. We still see a situation where … not one girl has been rescued by the Nigerian military," she told AFP during a new protest in Abuja.
She said, "We shall upscale our advocacy and work towards ensuring that this issue on the ground is priority for the Nigerian government until they are rescued,"
In the same vein, Chairman of Chibok community residents in the nation's capital, Tsambido Hosea Abama, said on his part, he would "continue to cry until our daughters are back and alive."
The ferocious #BringBackOurGirls campaign on social media has attracted worldwide support, from ordinary people to US First Lady, Michelle Obama and Cleric, Pope Francis, culmination in demonstrations around the globe.
Families and sympathizers  of the missing girls have been critical on Nigerian President Goodluck Jonathan's response and perceived cold disposition to the abduction, accusing him of being slow to react and indifferent to the girls' plight.
Short URL: https://www.africanexaminer.com/?p=12707