African Union Expresses Worry Over Military Action in Zimbabwe
Featured, Latest News, South Africa, Southern Africa
Wednesday, November 15th, 2017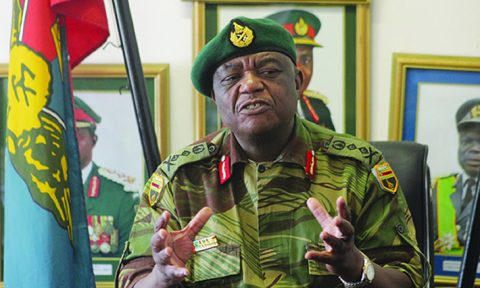 Photo: Zimbabwe's military's commander, General Constantine Chiwenga
(AFRICAN EXAMINER) – The African Union AU has expressed concern on the present political situation in Zimbabwe, suspecting it appears like a coup against the sitting Government.   
Consequently, the body Wednesday called on the military to halt their actions and restore constitutional order.
Guinea's President and Head of AU Alpha Conde said the body condemned the actions of top brass in the southern African nation as "clearly soldiers trying to take power by force".
AU in a statement sent to AFP said: "the African Union expresses its serious concern regarding the situation unfolding in Zimbabwe", expressing for the country's "legal institutions".
The Zimbabwean military took control of the country Wednesday after a struggle to succeed 93-year-old President Robert Mugabe erupted in public, culminating in the sacking last week of the Vice President, Emmerson Mnangagwa.
Mugabe and wife are presently under house arrest, according to a conversation reported by the South African President Jacob Zuma.
Mugabe according to Zuma "indicated that he was confined to his home but said that he was fine."
Short URL: https://www.africanexaminer.com/?p=41528