Again, APC Urges Buhari To Ignore Wike's Multi-Billion Naira Propaganda War Against Amaechi
Featured, Latest News, News
Monday, September 14th, 2015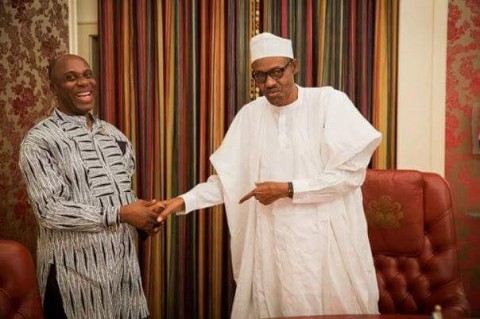 The All Progressives Congress (APC) in Rivers State has declared the immediate past governor of the State Chibuike Amaechi is clean and untainted by corruption, urging President Muhammadu Buhari to disregard desperate efforts by Chief Nyesom Wike to tarnish his image.
"We make bold to say that if there is any clean and spotless former governor in Nigeria, that person is Rt. Hon. Chibuike Rotimi Amaechi, CON.
"Anybody who knows Amaechi well enough would readily testify that he is an honest, sincere but courageous gentleman, a first-class patriot who is ever ready to go the extra mile to see that Nigeria becomes a better place for the present and future generations,"
Rivers APC said this  in a statement issued in Port Harcourt on Monday and signed by its State Chairman, Dr. Davis Ibiamu Ikanya.
The party strongly condemned Chief Wike's desperation to drag Amaechi's name in the mud, the latest phase of which centres around a sponsored documentary on Amaechi being aired on Africa Independent Television (AIT).
"This satanic documentary is only part of Wike's propaganda war against Amaechi for which the Care-Taker Governor of Rivers State has earmarked billions of naira in his wicked plot to destroy and decimate the person and character of Amaechi.
"Other propaganda tools planned to be deployed in the war against Amaechi include sponsored publications such as advertorials, columns, editorials and OpEd articles in major international, national and local print media; sponsored personality discussion programmes in the electronic media and sponsored special documentaries for television and radio through independent groups and organisations," Rivers APC said.
The party added: "This insidious plot by Wike include commissioning a team made up of persons within and outside the state to 'initiate, formulate and contrive false damaging reports bordering on alleged corrupt practices of Rt. Hon. Chibuike Rotimi Amaechi and circulate same to individuals and institutions within Nigeria and abroad with a view to damaging the incorruptible character and rising profile of Rt. Hon. Chibuike Rotimi Amaechi in order to blackmail and put pressure on President Buhari not to appoint the former governor into his government.
These cooked reports will be sent to the US Embassy, UK High Commission, EU Commission, and several international organisations such as Transparency International, amongst others. The forged reports will also be sent to local and foreign media houses such as the BBC [Hausa Service], Dutch Radio, VOA [Hausa Service], amongst others' for repeated publication and airing."
 Rivers APC dismissed the allegations against Amaechi as a replication of the documentary terrorism Wike and the Peoples Democratic Party (PDP) deployed against now-President Muhammadu Buhari during the campaigns for the 2015 general elections.
"It is not surprising that the medium for airing the documentary is the same AIT that angered decent Nigerians with documentaries that disparaged the present President of Nigeria and his family members in a failed bid to make Nigerians not to vote for him.
"The anti-Amaechi documentary is simply aimed at driving a wedge between the President and the former governor in the hope that President Buhari would be blackmailed into leaving Amaechi out of his government," Rivers APC said.
It expressed confidence that "just as the blackmail against General Buhari was ignored by Nigerians, who massively voted for him, so, too, the President, having himself been a victim of PDP and AIT's documentary terrorism will also discountenance the dirt PDP and AIT are trying so hard to pour on Amaechi and accord him his right of place in the new Nigeria he staked everything, including his life, to achieve."
"We are happy that Amaechi has through both the immediate past Secretary to the Rivers State Government, George Feyi, and the Commissioner for Finance, Dr. Chamberlain Peterside, and others denied any form of corruption against him by Wike and his cohorts," Rivers APC said.
It reminded President Buhari of his statement during his visit to Rivers State on November 5, 2013, when he described Amaechi as a hero and a great leader.
It recalled Buhari as saying: "PDP decided to target some governors that are progressives and we feel will make a difference. We seek your support through Amaechi. I lived in Port Harcourt during my military career.
"I was a staff officer to Gen Danjuma in 1973. Rivers State has produced great men such as professor Tam David West. 2015 will be another watershed in Nigeria. Amaechi is a great leader. We decided to come together to save Nigeria from misgovernance. We must come together and make Nigeria move forward.
"Amaechi has given Rivers people responsible leadership. The schools he has built will give Rivers children a better tomorrow while women and children stand to benefit from the standard health centers he has built. He has also carried out physical rehabilitation of infrastructures in the state. People like Amaechi should join the APC to move Nigeria forward."
Rivers APC noted that it is the same Amaechi that solidly stood by Buhari and successfully piloted his campaign that is being disparaged on daily basis by Wike, who is seeking to punish Amaechi for his role in scuttling the re-election bid of Wike's boss, former President Goodluck Jonathan.
"It is our conviction, therefore, that denying Amaechi appointment based on the wicked propaganda by Wike and his cohorts is like believing all the falsehoods against Buhari during the campaigns," the party said.
Short URL: https://www.africanexaminer.com/?p=25664