Akpabio Asks Jonathan To Declare For Second Term Now
Latest News, Politics
Wednesday, January 29th, 2014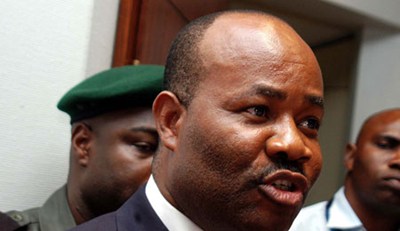 Muyiwa Bamidele, Abuja
The Akwa Ibom State Governor, Godswill Akpabio, has declared his support for President Goodluck Jonathan's 2015 re-election and called on the President to declare his intention to run without further delay.
Akpabio made the declaration when he led the PDP faithful from Akwa Ibom on a solidarity visit to the new National Chairman of Party, Adamu Mu'azu in Abuja.
The Akwa Ibom governor promised to deliver to the President the entire delegate votes from his state, just like he did during the party's 2011 presidential nominations.
"We did it in 2011 and I assure Mr. President that Akwa Ibom will do it again. We were the first set in 2010 to announce our support for him to go for his first tenure in 2011.
"We did that and other states followed. We are again the first state in 2014 to urge Mr. President to go back for a second term in office.
"We are a monolithic group in Akwa Ibom, although you may have one or two people who want to test the political waters here and there," he added.
Meanwhile the National Chairman of the Peoples Democratic Party (PDP), Adamu Mu'azu said the party under his leadership would ensure it halts the mass deflection of PDP members to the opposition APC.
Short URL: https://www.africanexaminer.com/?p=7770