Al Qaeda-linked Islamists hold out at Kenya mall, 39 dead
Africa, African News
Sunday, September 22nd, 2013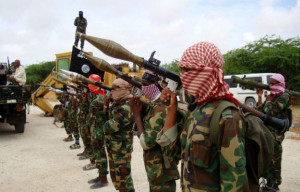 Kenyan security forces were locked in a standoff on Sunday with gunmen who killed at least 39 people in an assault at an upmarket shopping mall in Nairobi, where the al Qaeda-linked militants were holding an unknown number of hostages.
The Somali Islamist group al Shabaab claimed responsibility for Saturday's attack on the Kenyan capital's Westgate mall, which is frequented by Westerners as well as Kenyans. Several foreigners, including a Canadian diplomat, were among the dead.
Kenyan President Uhuru Kenyatta, facing his first major security challenge since his election in March, said more than 39 people had been killed, among them close members of his family.
A senior government official said on his Twitter feed that more than 300 people had been wounded in an attack that could prove a major setback for the east African nation, which relies heavily on tourism.
The dead included children, and the wounded ranged in age from 2 to 78. Many victims were at a cooking competition when assailants stormed in with automatic rifles, witnesses said. Blood lay in pools in the mall. Shop windows were shattered.
More than 20 hours after the attack began, an unknown number of people were believed to still be inside, held by the attackers. The focus was on Nakumatt supermarket, one of Kenya's biggest chains.
Kenyatta said security forces were engaged in a "delicate operation," adding: "Our top priority remains to safeguard the lives of innocent people held up in this unfortunate incident."
Sporadic shooting continued for several hours after the attack, which began at around 12.30 p.m. (5.30 a.m. EDT) on Saturday but had become a tense calm by the evening. Soldiers had joined the security operation backed by armored personnel carriers.
"It's been quiet. They will be arranging how to attack," one paramilitary officer in green camouflage fatigues and a rifle slung over his shoulder, told Reuters close to the mall.
One woman emerged on Sunday morning after she said she had been hiding under a car in the basement. She was holding one shoe and looked dazed, and was making a frantic phone call to her husband who later met her, a Reuters witness said.
Reuters
Short URL: https://www.africanexaminer.com/?p=1542