Loud Ovation For Judiciary Icon, Late Justice Oputa, As Governor Amaechi Eulogizes At The Funeral
Latest News, News
Tuesday, June 24th, 2014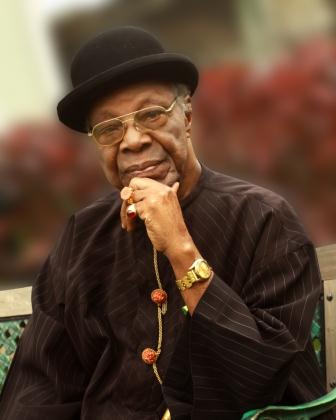 Rivers State Governor, Rotimi Amaechi, has described the late Justice Chukwudifu Oputa as an incorruptible judge. The years the revered Jurist and late Justice Kayode Eso held sway in the nation's judiciary, Amaechi has also described as a "golden era".
Despite the high level of sleazy activities, Governor Amaechi observed that the judiciary could still parade eminent jurists like Oputa and Eso if the country desires to allow justice to reign at all times.
The governor spoke on Tuesday at a requiem mass organized by the state government in honour of late former Justice of the Supreme Court at the Corpus Christi Cathedral in Port Harcourt, the Rivers State capital.
Represented by the Secretary to the State Government, Mr. George Feyii, the governor, who recalled that Oputa began his life in Port Harcourt, expressed sadness over the state of the judiciary and the rule of law in the country.
"The state government identified with him because apart from the history that he started his life here in Port Harcourt, which is being celebrated in the entire Rivers State, he insisted on justice, he was incorruptible and everybody acknowledges that".
"The important thing here is that the state is honouring this great man, who on account of every man, who came across him, acknowledged that he was a great man.
"In today programme, either by accident or by design, you see that beside his picture was another great man, late Justice Kayode Eso…" Amaechi eulogized.
On the state of the justice dispensation, the governor disclosed that Nigerians expected the judiciary to hand over to the current generation a legacy it (judiciary) would be proud of.
Amaechi queried: "The natural thing in life is that if you look back at every stage, you advance. But, if we are to ask ourselves this question today, as judiciary, are we progressing or retrogressing?
"How can we begin to bring back the Justice Oputa and Justice Eso era? What is happening? And if the state we are, is how it will be with the judiciary, where are we going to be tomorrow. It was expected that the judiciary and the bench should leave a legacy to be proud of.  If we are like this, what are we going to be remembered for"?
Earlier, the officiating cleric and Bishop of Port Harcourt Diocese, Bishop Camillus Etukudo, charged public office holders to use their positions to serve God, humanity and to save the society from anarchy and evil.
Mr. George Oputa, who spoke on behalf of the family of the late jurist, expressed gratitude to the state government for honouring their late father.
Short URL: https://www.africanexaminer.com/?p=13382