Amaechi Signs Rivers 2014 Appropriation Bill into Law
Featured, Latest News
Wednesday, January 8th, 2014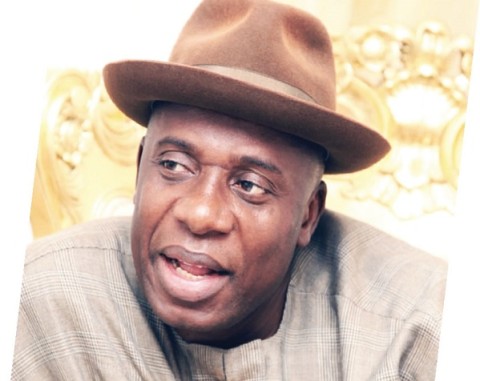 Rivers State Governor and Chairman of the Nigeria Governors' Forum, Rt. Hon. Chibuike Rotimi Amaechi has signed into law the 2014 appropriation bill which was earlier passed by the Rivers State House of Assembly.
Governor Amaechi shortly after signing the appropriation bill into law at the council chambers, Government House, Port Harcourt on Wednesday, thanked the lawmakers for promptly passing the appropriation bill.
He said their prompt action in passing the 2014 appropriation bill would empower his administration to sustain the provision of more people – oriented projects in the state.
He acknowledged their determination to press on with their legislative responsibilities despite attempts by enemies of the state to forestall their progress.
He commended them for their firmness and decision to stand with the people of the state in their legislative functions and thanked them for their patriotism.
Amaechi also commended the lawmakers for defending the country's democracy and upholding the right of all Rivers people to good governance as currently demonstrated by his administration.
"Let me thank the House (of Assembly) for your actions yesterday. There was the need to defeat those who wish the state evil and I'm sure the whole state is extremely pleased with the level of patriotism that you have displayed.
"The initial plan of those led by our so-called 'Abuja brothers' and the commissioner of police is to stop you (lawmakers) from dealing with legislative functions. I hear that one of them is telling people that he has been able to stop the House from sitting, he has been able to stop the judiciary from functioning.
"The truth of the matter is that none of such things could be happening other than the fact that they are using the state apparatus which is the police.
The commissioner of police is completely not a policeman, he's a known PDP politician who attends meetings with them and carries out illegal action but yesterday, you were able to assert that democracy is about people and that when you talk about democracy it begins with the legislative arm of government for the reason that you represent each unit of our people and you actually go down to the people", he said.
Before presenting the 2014 appropriation bill for the governor's assent, the leader of the state House of Assembly, Hon. Chidi Lloyd, said they were impressed with the current achievements of the Amaechi administration.
He said, "May I by leave of Mr. Speaker (Rt. Hon. Otelemaba Dan-Amachree) invite Your Excellency to kindly assent to the 2014 appropriation law as passed by the Rivers State House of Assembly. Your Excellency, we urge you to continue to deliver on the dividends of good governance as you have done".
Governor Amaechi had earlier this week presented the proposed 2014 budget of N485.524billion to the Rivers State House of Assembly.
He said the budget would focus on completing ongoing projects in health, education, roads, transport, power, water, agriculture and other critical infrastructure.
Short URL: https://www.africanexaminer.com/?p=6971