Ambode Happy As Lagos Is Admitted Into Odu'a Group
Business News, Featured, Latest News
Wednesday, January 20th, 2016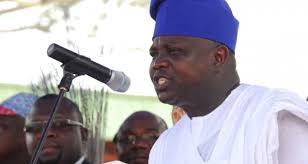 BALTIMORE, MD (AFRICAN EXAMINER) – The Lagos State Governor, Mr. Akinwunmi Ambode, has welcome with joy and enthusiasm the admission of Lagos State as the 6th member of the Odu'a Group, describing it as a major landmark in the effort of the South-West States of Nigeria towards regional integration.
A statement issued on Wednesday by the State's Commissioner for Information and Strategy, Mr. Steve Ayorinde, stated that the Governor believed strongly that the drive towards regional integration in the South West of Nigeria cannot be effectively pursued if all the States in the region failed to combine their resources, work together and maximize their comparative advantages in order to build a strong regional infrastructural and social links amongst the States.
The statement further said that Governor Ambode fervently believes that Lagos joining the Odu'a Group is a priority for his administration because with its huge population, vibrant economic base and being the centre of economic and business activities in Nigeria, Lagos is uniquely placed to contribute to the development and growth of the Odu'a Investment Company Limited (OIC), the investment arm of the group, as well as the integration of South West Nigeria in general.
It said the Governor expressed his gratitude to the group for the decision and look forward to his government working with those of other States in the group towards the improvement and development of South West of Nigeria and its people.
It would be recalled that the decision to admit Lagos State as the 6th member of the Odu'a Group was taken at the end of a meeting of the five Governors of Oyo, Ondo, Ogun, Osun and Ekiti States in Ibadan yesterday, thereby ending four years of debate amongst the previous five owner States over whether Lagos State should be admitted into the group.
Short URL: https://www.africanexaminer.com/?p=29612