Ambode To Prosecute TB Joshua, Contractors Over Collapsed Church Building
Featured, Latest News, News From The State
Thursday, July 16th, 2015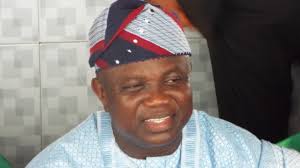 By Ayo Balogun – Lagos State Governor, Mr. Akinwunmi Ambode on Thursday said that his administration will prosecute Prophet Temitope Balogun (TB) Joshua's Synagogue Church of All Nation (SCOAN) in the aftermath of last week's Coroner's inquest verdict which called for the prosecution of the church.
On July 7, 2015, the Coroner in Lagos recommended the prosecution of SCOAN and the contractor which handled the collapsed 6-storey which killed over 100 worshippers of the church on September 12, 2014 Synagogue.
The governor said he would enforce the coroner's verdict in consonance with the rule of law.
The Governor, in a statement signed by his Chief Press Secretary, Mr. Habib Aruna, said his government will uphold and enforce the sanctity of the law in the state, just as he urged residents of the state to also respect the rule of Law.
"His Excellency hereby reiterates his Government's commitment to uphold and enforce the sanctity of the law in the state and calls on all Lagos resident to respect the rule of law", the statement said.
To this end, he said the Coroner's verdict of 7th July 2015 made a number of recommendations which the state government will act upon accordingly.
The Governor said that one of the provisions of the Coroner Law 2007 is the provision that empowers a Coroner to commence an inquest to find out the cause and manner of death which occur in an unusual manner.
He said that consequent upon the collapse at the premises of Synagogue Church building, the state government applied that a coroner's inquest be commenced into the cause of the tragic deaths.
The Governor said the state government "Will cause the prosecution of the contractor, Engineer Akinbela Fatiregun of Hardrock Engineering Company Limited and Structural Engineer, Oladele Ogundeji who constructed and supervised the collapsed building respectively at the Synagogue Church of All Nations for professional negligence".
Ambode said that the state government will also prosecute the Synagogue Church of All Nations for neglecting to obtain building approval before commencing the building, contrary to the provisions of the Urban and Regional Planning and Development Law 2010.
The Governor, therefore, appealed to residents of the state to always allow emergency responders perform their duties of emergency as they are trained for this purpose.
"He enjoined land owners within the state who intend to embark on construction to employ the services of qualified and competent engineers who must obtain building permit before construction", the statement said.
Short URL: https://www.africanexaminer.com/?p=24443