Ambode's 100 Days Performance Dismal -Lagos PDP
Featured, Latest News, News From The State
Sunday, September 13th, 2015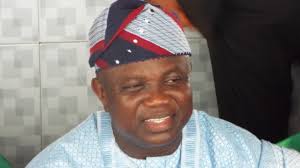 By Ayo Balogun – The Lagos State chapter of the Peoples Democratic Party, PDP, has described the performance of Governor Akinwunmi Ambode in the first 100 days as dismal and projected to continue with unclear policies.
The party said "there is no doubt that Governor Ambode is overwhelmed by the wrath he discovered and inherited in the state. Rather than expose this and apologise to Lagosians, he has chosen to be deliberately indifferent in order to shield the APC as a failed party in the state, thus, putting the interest of his party above the general interest of the lagos electorates."
"The PDP has thus put the governor on the spot to take the bull by the horns and manifest competent leadership, "otherwise governor Ambode should throw in the towel," said the party in a statement signed by its Publicity Secretary, Taofik Gani.
According to the PDP, its delayed assessment was deliberate to gauge the public opinion on the governor, saying that "the public opinion on the 100 days has been declared as abysmal by majority speakers."
The PDP however said it observed that governor Ambode attempted bold step to fault some policies of his predecessor, but that himself has further complicated such policies by not proffering clear alternatives to the criticised policies.
"The examples of lack of cabinet; internally generated revenue and introduction of Treasury Single Account; LASTMA operations; the LASU crisis; delay in Local Government elections; unclear salaries and wages for civil servants; human rights abuses; etc continue to linger even when they can be resolved within 100 days.
"For the sake of clarity, it is our opinion that the actual revenue generated by the state can never be known as long as the process continues to be in the hands of private tax firms instead of absolute control of government.
"Indeed the participation of Alpha Beta Tax firm in the collection of revenue for the state ought to be reviewed. The firm has become the state's finance department. This is maladministration and governor Ambode should stop the Apha beta Services in order to achieve the TSA policy," the party stated.
The PDP said Ambode ought to have resolved the lingering crisis in Lagos State University, LASU within 100 days as the glory of the only State's university had been destroyed in the last five years and that the university had become more of a theatre of shame to the state.
"What about the delay in conduct of local government elections? This is a gross misconduct and violation of the constitution for the governor and House of Assembly not to have put in place logistics for conduct of polls into the councils within 100 days. The law requires just 60 days as notice for polls. Indeed, another constitutional violation is the governor's refusal to form a cabinet," it stated.
Short URL: https://www.africanexaminer.com/?p=25648