"Amnesty International: Another Ojukwu'll Go To War If You Touch Ihejirika"
Latest News, News
Friday, June 5th, 2015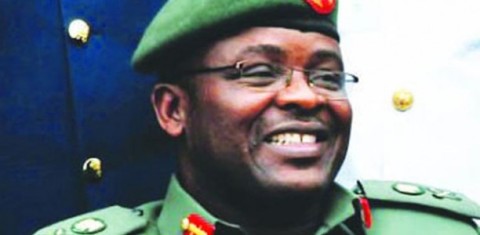 IGNATIUS OKPARA, Enugu – The youth wing of the apex Igbo socio- cultural organisation , Ohanaeze Ndigbo, has warned the Amnesty International against prosecuting ex-Nigerian Chief of Army Staff, COAS, General Azubuike Ihejirika, (RTD), threatening that "another Ojukwu will go to war" should that happens.
According to the body, if the ex-COAS whom it described as illustrious son of Igbo land "is prosecuted as being clamoured by the Amnesty International, there will be problem in the land.
African Examiner recalls that the Amnesty International, had on Wednesday, called on President Muhammadu Buhari and the International Criminal Court in the Hague, Netherlands to investigate some ex- and serving Nigerian service chiefs for war crimes.
The crimes, according to AI were perpetrated during the fight against Boko Haram in the North-East between March 2011 and 2014.
It said in a   comprehensive report, entitled, "Stars on their shoulders, blood on their hands: War crimes committed by the Nigerian military," that no fewer than 8,000 persons were "murdered, starved, suffocated and tortured to death "in the North-East during the period under review
AI in the report also said that it had "compelling evidence" for the investigation of the former and serving Service Chiefs as well as "mid-level and senior-level military commanders."
But in a swift reaction, National President of Ohanaeze Youth Council, Mazi Okechukwu Isiguzoro , described the report and AI's call for Ihejirika's trial as "utter rubbish".
He accused some Northern elements of trying to use the international body to revenge on southern military top brass who staked their lives in defense of the territorial integrity of Nigeria.
The OYC president said: "the last insult Ndigbo can take from those who think they are the owners of Nigeria is to allow them touch Gen. Ihejirika who served his father land meritoriously".
"What Ihejirika and other military personnel who staked their lives fighting Boko Haram deserve is commendation and not politically- motivated prosecution".
"Where was Amnesty international when Boko Haram fighters were annihilating Christians in Northern Nigeria?
"Where was Amnesty International when Boko Haram was throwing bombs inside churches , mosques, markets , motor parks etc and killing innocent Nigerians?"
"What efforts have amnesty international made to bring sponsors of Boko Haram to book? Or will they claim they did not hear when some people threatened to make Nigeria ungovernable should ex- President Goodluck Jonathan win the 2011 presidential election".
" The Ohanaeze youths accused amnesty international of "bias, hypocrisy and playing double standards", and warned President Buhari to disregard it's report "
"If he wants to lead a united Nigeria"." Buhari should choose between leading a united Nigeria and supervising the fragmentation of Nigeria",
It further said :" They killed Igbo first General, Aguiyi Ironsi and nothing happened but this time around any attempt to touch another Igbo General will be vigorously resisted with our last drop of blood."
"Why did amnesty international close its eyes and seal its lips when youth corps members from the South were being killed in the North after the 2011 presidential election result was announced?
"Why did amnesty international not call for the prosecution of those who supervised the genocide against Ndigbo before, during and after the civil war?
It noted that apart from over 1 million Igbo killed during the war, Boko Haram and religious clashes had claimed over 200, 000 Igbos resident in the North with property worth over N2 trillion ."
"Why is amnesty international turning a blind eye to the systematic genocide against Igbos in the North and the gradual annihilation of Middle Belt communities by Fulani cattle rearers?"
"That power has returned to the North does not mean that other ethnic nationalities in Nigeria will become slaves, nobody should use amnesty international to intimidate any body unless they have agreed that we are tired of this forced union called Nigeria,
Isiguzoro, further said : " We cannot become beggars because Jonathan lost election, and we have no regrets making our choices in the last election.
"South East and South South are integral parts of Nigeria and cannot be treated as slaves".
The Ohanaeze chieftain, equally warned General Theophilus Danjuma ( retd.) , and noble laureate, Professor Wole Soyinka against their " serial anti-Igbo comments", saying that "we have been carefully studying these unwarranted attacks and will take a position very soon".
"No amount of jealously can stop Ndigbo from succeeding even in deserts because of our Jewish gene which our enemies cannot suppress .
Short URL: https://www.africanexaminer.com/?p=23906