ANALYSIS: Eventful Ministerial Screening; What Roles For Fashola, Fayemi And Others?
Latest News, National News, News Features/Analysis
Friday, October 16th, 2015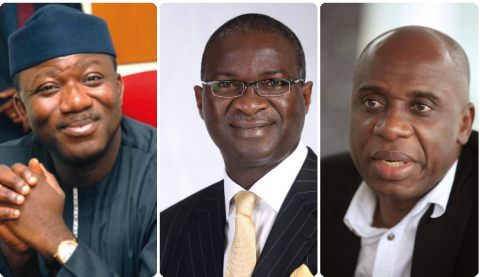 By Tajudeen Balogun, Head, African Examiner, Nigeria Bureau
The matter just refused to die and therefore dominated public discussion for so long a time (till moment) since the incumbent President Muhammadu Buhari was sworn-in, May 29. And the delayed List was eventually made available, late last month; sent and received by the Senate President, Bukola Saraki. Those made it have been made public and their screening has since begun (still ongoing), while those already screened have been confirmed.
The screening of President Buhari's Ministerial Nominees which started Tuesday and lasted till yesterday (with announcement of postponement till next week) expectedly turned out to be a national exercise in which every adult Nigerian, regardless of his/her profession gave a rapt attention to and which largely held down so many other things.
So far, the screening exercise really worth the salt and has been very eventful. With respect to in-depth knowledge displayed on questions asked; critical and graphical analyses in responses; contents and relevant dimensions of their deliveries as well as advantages of successful practice in their various callings, either in business, discipline, government or combined in some cases, I wish to hold that a good number of the 19 Nominees confirmed Thursday, have proved, even to the cynics that they have what it takes to be in the train to deliver the missing good orientation, economical, structural transformation and ultimately, good governance in Nigeria.
In particular, the outstanding performances put up by the likes of former Ekiti State Governor, Dr. John Kayode Fayemi; elderly but dynamic Chief Audu Ogbe; less known Engineer Suleiman Adamu; Lt. Col. Ibrahim Dambazzau; the immediate past Lagos State Governor, Mr. Babatunde Raji Fashola (SAN); the group Managing Director (GMD) of the Nigerian National Petroleum Corporation (NNPC), Mr. Ibe Kachikwu; Bar. Solomon Dalong, Mrs Kemi Adeosun and few others were apt and very commendable.
As for Alhaji Lai Mohammed, I believed the drama which accidentally unfolded when ushered into the red chamber somewhat saved the upper House a stormy session. Trust the trained Lawyer and veteran publicist; he had fully prepared himself and had already lauched two different salvos, which quickly prompted Senate Minority Leader, Godswill Akpabio to support an earlier motion that Mohammed should take a bow and go. All the same, it was a good one for the Kwara-born man. He has a good showing.
Besides, the ability and potentials displayed by some of the Nominees is a plus for Mr. President, especially with respect to delay before coming up with the names, albeit some of them are known faces, as argued by some.
However, on the part of the Senate, the Legislators put up an above average performance the second day. Some of the questions asked were deep and relevant. I even found it very thrilling when the ruling APC Senators put Nominees on spot with backlog of questions. A good example of this was the case of Senator Olamilekan Solomon (Lagos West) and Mrs Adeosun. Provided intimidation was not intended, engagement of such is really needed to provoke the best out of the Nominees. By and large, the Upper House must again brace up for the task ahead – screening of the remaining 17 or 18 Nominees as the case may be next week.
However, I have heard a handful of 'self-seeking' commentators, arguing that what has transpired so far was not screening. They complained that lobbies have gone underneath; compromised reached and made, which in their reasoning, was why the exercise has been so peaceful. One wonders what actually people like this are looking for. If they are looking out for a riotous session, which they will later criticize and condemn, well, it is a pity. Still, my advice to them if not yet satisfied is that they should please compile their questions and forward them to any Nominee of their choice via possible means.
Amaechi's Dragged Screening
Former Rivers State Governor, Rt. Hon. Rotimi Chibuike Amaechi's nomination has raised so many dusts – but which are totally political resentment, in particular from the Rivers opposition PDP. It is regrettable that such mere political gimmicks have advanced to the present level, to the extent that the man in the eyes of the storm (screening) has been shifted twice. But the bad news for Amaechi's enemies is that the public they were scheming to get its sympathy is ironically behind their target. In fact, the popular take now is that Amaechi was calculated to be made a scapegoat, obviously for leading five Governors out of the PDP and subsequently joined in the unstoppable movement (party) which eventually ousted their brother, the immediate past President, Goodluck Jonathan from power.
Again, another bad news for Amaechi's foes is that the public expects nothing next week, but that he is properly screen as long as the Senators wish and in the end, confirm him with the remaining Nominees for the appointment as a Federal Minister. Sorry, 'Weep not, Amaechi's enemies'; perhaps, someone should console the aggrieved ones.
Role(s) For Fashola, Fayemi, Mohammed And Others
One fulcrum aspect of economy and industrial development as well as transformation is power. Today, Nigeria is still under supplied with electricity for house and industrial use. And this is in spite of the estimated $30 trillion that has been expended on the sector in the last 16 years! This underscores why a serious attention must be devoted to the sector. However, attention without a focus person in charge will still achieve less result. Just as Mr. President is doing to the petroleum sector, (just because he appreciated the impacts of oil and gas on economy and lives of the people), Buhari should assign the former Lagos helmsman with the power portfolio.
My reasons for this are simple. From the stable power supply, the economy can be revived; industry will grow and expand and this subsequently will create employment. More people will be productively engaged and level of poverty will be appreciatively reduced. This sector is very key and the outcome from it, is one of the most convenient indices to assess Government as well as rate its failure or success. In addition, he has full grasp of security and how it can be made to work for common goal. He should therefore alongside be made to have say in the Ministry of Police Affairs.
Others whose areas of strength have equally been determined are Dr. Fayemi, who I am so convinced will do very well in either Education or Foreign Affairs; Ogbe for Agriculture; Adamu – Works; Adeosun, Finance/Economy; Dambazzau unarguably Defence; Kachikwu portifolio is already determined by virtue of his present office. The same goes for Mohammed, whom I aspect he is going to Infortmation. Chief Ogbonaya Onu can be considered for Science and Technology.
Finally, President Buhari must not fail to put to task, just as he had offered himself to serve, his Ministers, when eventually assigned with the portfolios and finally swing into action. Wish him, the Ministers and Nigeria well!
E-Mail: tjaysuccess10@gmail.com; Facebook: Tajudeen Balogun; Twitter: @tjaysuccess10
Short URL: https://www.africanexaminer.com/?p=26463