Anglican Bishops Warn Enugu PDP Against Catholic/Catholic Ticket
Latest News, News From The State
Wednesday, December 17th, 2014
Ignatius Okpara, Enugu, The Anglican Bishops under Enugu Ecclesiastical Province on Wednesday threatened to resist any attempt by the Peoples Democratic Party (PDP) to field a Roman Catholic tickets in the 2015 governorship election in the state.
They insisted that since the PDP candidate in the state, Hon. Ifeanyi Ugwuanyi, is a Roman Catholic by faith, there is need for his running mate to be an Anglican, so as to give them a sense of belonging in the state.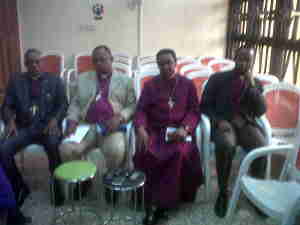 The Anglican Bishops maintained that for the PDP in the state to enjoy their support in 2015 election, "the   running mate to the governorship candidate of the party, Hon. Ifeanyi Ugwuanyi must be an Anglican if the party wants to enjoy the support of Anglicans in the state."
"Since Ugwuanyi is a Roman Catholic, it would be wrong to field another Roman Catholic as running mate", saying that doing so would add to serial political marginalization and maltreatment of Anglicans by the Sullivan Chime led administration." the Bishops stated.
Addressing newsmen in Enugu alongside other five Bishops, the Arch Bishop of Enugu Ecclesiastical Province, Most Rev Emmanuel Olisa Chukwuma, alleged that despite the huge population and contribution of Anglicans in the development of the state, Chime's government marginalized them in areas of lands, schools, and political appointments.
He said:"So, right now as it is, we are crying out to the world to say there is trouble looming in Enugu state if Anglicans are not considered in the governance of Enugu state in the coming dispensation".
Other Bishops present at the briefing were; Rt. Arch Bishop Amos Madu, Bishop of Oji River Diocese; Rt. Rev. Emma Ugwu, Bishop of Awgu/Aninri Diocese; Rt. Rev. Chijioke Aneke, Bishop of Udi Diocese; Rt. Rev. Prof. Evan Ibeagha, Bishop of Nike Diocese and Rt. Rev. Dan Olinye, Bishop of Eha-Amufu Diocese.
Chukwuma said that the Anglican Bishops were not against Ugwuanyi, "we wholeheartedly support his candidature because we believe that as it is now, there is no other candidate that is more credible than Ugwuanyi, but Ugwuanyi should not succumb to the pressure of selfish people who wants to perpetrate their sister or their brother as his deputy."
"He should be very careful and he should be aware that it is not going to augur well.
"We as Anglican Bishops are crying and appealing that Anglicans in Enugu state are saying that the Anglican church must be given the position of Deputy Governor next year; for the position of Governor and Deputy Governor to be Catholic/Catholic, will not be acceptable to us.
"In the federal level, people are not happy with Christian/Christian ticket, hence the president has taken a very good stand to return as president and pick a Moslem as his running mate.
"Why should Enugu state therefore nominate a Roman Catholic governorship candidate who we are not against and wanting again to nominate a Roman Catholic as the Deputy Governor " he asked?
"We Anglicans say no to that kind of arrangement. We are not in minority in Enugu state and we totally reject that intention and we are warning that if they want peace to reign in this state and for them to enjoy our cooperation, it should not be Roman Catholic/ Roman Catholic ticket.
"You can say these Anglicans, like Jim Nwobodo, C.C Onoh were governors, but after that time all those who have been governors, they cannot prove to us that Anglicans have been governor or Deputy Governor.
"When Chimaroke Nnamani, a Methodist took over from Navy Capt Agbaje, he made Okechukwu Itanyi, a Roman Catholic his Deputy. After that, he handed over to Sullivan Chime who is a Catholic and Sullivan chose Onyebuchi, who is a Methodist as his Deputy.
"Now, he is going away again, Ugwuanyi Ifeanyi, we don't have anything against his candidature, but we are saying give us an Anglican Deputy, otherwise you are looking for our trouble.
"If you look at Enugu state right now; if you talk about governor, not Anglican; deputy, not Anglican; Speaker not Anglican; SSG, not Anglican; Chief of Staff, not Anglican; where are we? "Commissioners appointment, we are marginalized, we don't have good number, they are not more than three or four,' he  stated.
Short URL: https://www.africanexaminer.com/?p=20777