APC Accuses Jonathan of Ineptitude, Insists On Change
Featured, Latest News, National News, Politics
Saturday, June 14th, 2014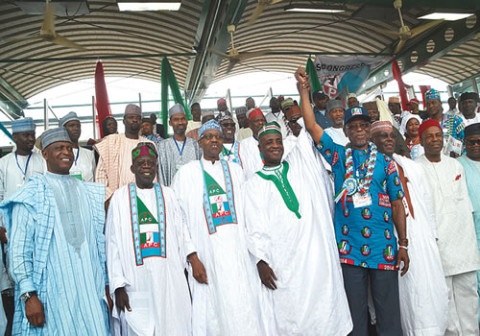 LEADERS of the All Progressives Congress (APC) on Friday accused President Jonathan of ineptitude, weakness and lack of capacity to solve the problems of the country.
The APC leaders, who spoke at the 1st National Convention of the party at Eagle Square, Abuja, insisted there must be change in the leadership of the country, urging Nigerians to vote out the Peoples Democratic Party (PDP) in 2015.
Addressing over 6000 delegates, former Head of State, General Muhammadu Buhari said every government is supposed to secure and manage a nation, adding that the Jonathan-led administration has failed to secure the lives of Nigerians.
He alleged that the burden of corruption and impunity under the present administration has reversed all the progress Nigeria has made over the years, stressing that security and the welfare of the people would be the priority of the APC.
He said: "What was the state of infrastructure in the country in 1999 and the situation today? We have taken all the pains and we remain resolved to build this country. This country will not be completely destroyed."
Buhari, who noted that no single opposition party can make much impact, said: "We came together in order to stop the impunity that has reversed the progress this country has made so far. This convention is strategic to the development of the APC. All those who will emerge should know that they have the trust of Nigerians."
Also speaking, former Vice President, Alhaji Atiku Abubakar, stated that Nigerians have the opportunity to change a government that is corrupt, weak, inept, and lacks solution to the problems of the country.
Stressing that this government has no business being in office after 2015, Atiku said: "You have got every reason to change this government that has no clue to the problems of this country. This government has no business being in office after 2015. I will be at the forefront of ensuring that this change happens."
He called on the leadership of the party to show that APC is different from PDP by demonstrating that APC is truly a democratic party. "We must place the country and Nigerians first before anything. We must see ourselves as Nigerians first and not as Christians and Muslims or southerners and northerners."
He called on Nigerians to ensure that APC wins the election in 2015.
Former governor of Lagos state, Senator Bola Tinubu, who accused the present administration of failure and corruption, said APC wants to change Nigeria and release it from the captivity of corruption.
He said: "They don't have positive ideas to offer. They feed us with emotional lies. That is why they make excuses. You cannot use incompetency to deceive Nigerians. If they are not lying to us, why is the millions of naira in our pension fund still missing? They said that barrels of crude oil are missing. Are you going to continue that way? Our youths are unemployed. They gathered them at the National Stadium, picked their pockets and racketeered their emotions instead of creating jobs. We are here to give Nigerians hope that change has come. Your broom is a broom of revolution to sweep poverty, corruption and insecurity away."
Tinubu who described the abduction of the over 200 Chibok girls as a shame said: "It is a failure of government. It is a shame on all of us to allow over 200 of our children to still be in captivity… the greatest failure of ineptitude, incompetency and the failure of good governance. The storm of positive change is blowing and that change is APC, a positive change for a united Nigeria. If they want to polarize us and divide us between religions, tell them no. Hunger and poverty knows no religion. Common sense revolution has come."
In his remarks, Imo state governor, Rochas Okorocha, observed that Nigerians are traumatized and yearning for change. He pointed out that change must come if Nigeria must be better.
He noted that the victory of APC has been signed, sealed and delivered by the grace of God and urged the leadership of the party not to fail Nigerians
He said: "Nigerian political parties are not built on ideology, but APC is a party that believes in internal democracy. We are gathered this night for the love of our country and the love for democracy. Some say that APC is a Hausa party; that it is a Muslim party. But APC is a party that cares for the interest of Nigerians."
Also speaking, River state governor, Rotimi Amaechi, said: "You don't expect PDP to give you power. We must defend our votes or else they will rig you out. Hunger is killing Nigerians. If they come with their guns, let them kill us. There is no revolution without struggle. They will use the police, they will use the military to intimidate us but we must defend our votes."
Also speaking, former governor of Abia state, Ogbonnaya Onu, urged the Independent National Electoral Commission (INEC) to ensure a free and fair election in Ekiti and Osun states, and in 2015.
Onu said: "We are ready to move into Aso Rock Villa. We want to produce the next president. Nigeria has people who are patriotic and who are determined to ensure that change come to our country. How many of us are happy with the way things are happening in the country today? Is anybody here happy with the level of unemployment or the level of corruption and insecurity in this country? This is why APC came into existence. We are asking Nigerians to look around. We want to bring change to our country. We want our economy to grow, and for jobs to be created. We want to have free and fair election. If other countries can conduct free and fair elections, why can't Nigeria? Nigeria has enough resources to bring development and ensure that all citizens are catered for. This is the essence of our party."
Guardian
Short URL: https://www.africanexaminer.com/?p=12681