APC Wants INEC To Prosecute Obiano For Multiple Registration
Ayo Balogun, Featured, Latest News, News
Friday, November 8th, 2013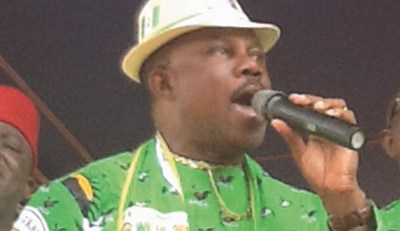 Ayo Balogun, Lagos
The All Progressives Congress (APC) has called on the Independent National Electoral Commission (INEC) to immediately commence the process of prosecuting the All Progressive Grand Alliance's (APGA's) governorship candidate for Anambra State, Mr. Willie Obiano, following the revelation that he engaged in multiple voter registration.
In a statement issued in Abuja on Friday by its Interim National Publicity Secretary, Alhaji Lai Mohammed, the party said Obiano's multiple registration provided the best test case yet for INEC to convince Nigerians that it was indeed willing and able to discourage multiple voter registration by making those who engaged in this electoral fraud to face the full wrath of the law.
"Prosecuting Obiano will also show that INEC Chairman, Attahiru Jega was not just bluffing when he recently called for the establishment of an electoral offences tribunal before the 2015 general elections to help restore sanity to the country's electoral process and deter people from committing electoral offences," it said
APC said it was important for INEC to ensure that Obiano was made to face justice, against the background of the statement credited to Prof. Jega that the Commission had detected 93,526 multiple registration cases in Anambra State ahead of the November 16 Governorship Poll.
"It is now clear, from incontrovertible evidence in the public domain, that APGA's governorship candidate is one of those who engaged in multiple voter registration, having registered twice in Anambra and at least once in Lagos.
"One of Obiano's two voter registration cards was issued on 21 August, 2013 with VIN number 90F5B12B88377091121, while the second was issued on 3 September, 2013 with VIN number 90F5B15E7D378200332. Both gave his address as No. 1 Chief Willie Obiano Street, Otuocha, and showed he was born on 08-08-1955.
"Add this to the evidence out there that he also registered in Lagos, and one can see that Obiano is a serial electoral offender who must not be allowed to escape justice. Nobody is bigger than the law, and Obiano cannot be an exception," APC said.
The party said its concern about the ability of INEC to organize a free, fair and transparent governorship election in Anambra on November 16 had been further heightened by the fact that the commission failed to discover Obiano's multiple registration until it was published in the media.
"This means that the 93,526 cases that the INEC Chairman said it had detected in Anambra may not have been expunged from the voters' register to be used for the November 16 election. After all, if the case of such a high profile person like Obiano, who is contesting for Governor, was not discovered by INEC, how can the cases involving ordinary citizens be discovered?" it queried.
APC said all eyes were now on INEC as to how it would handle the case of Obiano, and that the actions taken by the commission in the days ahead would determine whether it was ready to organize a free and fair poll or allow a repeat of the electoral heist and brigandage perpetrated by the PDP in the recently-held Senatorial bye election in Delta State.
Short URL: https://www.africanexaminer.com/?p=4521