APC Youths To Alaibe: You Want To Reap Where You Did Not Sow
Featured, Latest News, Politics
Friday, September 25th, 2015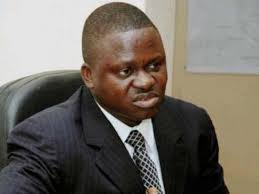 The APC Youth Vanguard in Bayelsa State sympathetic to ex-governor Timipre Sylva has reflected to the botched governorship primary of the All Progressives Congress and concluded that its governorship aspirant, Timi Alaibe, is too desperate for power.
According to them, since the former Managing Director of Niger Delta Development Commission wants to reap from where he did not sow, he has become a liability to the APC in the state.
Their claims were contained in a statement by its Publicity Secretary, Hon. Loveday Asangba, and made available to journalists on Friday night in Yenagoa.
They said that the circumstances surrounding the cancelled governorship primary last Tuesday were avoidable except for Alaibe's desperation for power.
Asangba added that his repeated failures in quest for the governorship in the state was an indication that the people were against him.
"Even now the situation has not changed. Alaibe's governorship ambition is no longer feasible because the odds are not in his favour because the people are against him", the statement declared.
 The APC Youths Vanguard described Alaibe as a  "failed serial governorship hopeful", adding that "Bayelsans are now tired and weary of his constant governorship quest".
The statement claimed that there was no way Alaibe could win in a primary election against Sylva in Bayelsa State , adding that for this he has resorted to buying his way because he was not on the ground.
Asangba said, "Timi Alaibe knows that even if they hold the primary 100 times, Sylva will still win. That's because he is not on the ground. He is banking on buying his way as usual. Sylva is far more on the ground and we think we should ask: where was Alaibe when Sylva was building the party at a time Alaibe was feeding fat from the PDP government?
"Of a truth, our people are tired of seeing the face of Timi Alaibe and this is understandable. He contested against DSP Alamieyeseigha in 2003, contested against Goodluck Jonathan in 2007, contested against Sylva in 2011 but later withdrew to contest under Labour Party and lost. Now again in 2015, he wants to contest against Dickson in 2015. He holds the highest record of a failed gubernatorial aspirant in Nigeria. But when you look at his record at the NNDC, you'll realise his aspiration can never serve any good purpose for our people and Bayelsa State".
The group criticized Alaibe as lacking in depth to tackle the challenges confronting the state, saying if his record as the managing director of the NNDC was anything to go by then the aspirant would be a disaster as governor.
"Unknown to many people, Timi Alaibe lacks depth. As such he has nothing to offer and that was why his tenure at NNDC was a total disaster and this will be repeated as governor. He cannot match Timipre Sylva in anyway. He likes to reap where he did not sow.
"He is a schemer and everyone knows he has a record of a schemer and specialises in high level mischief and treachery, just like Absalom in the Bible, the third son of David, King of Israel. It was said of Absalom, in his desperation to become King. Even at the expense of the life of his beloved father, Absalom would get up early and stand by the side of the road leading to the city gate.
"Whenever anyone came with a complaint to be placed before King David, for a decision, he would stop them to listen to their complaint and would answer them by saying: "Look, your claims are valid and proper, but there is no representative of the king to hear you."
"And Absalom would add, "If only I were appointed judge in the land! Then everyone who has a complaint or case could come to me and I would see that they receive justice."
"Remarkably, this sort of classic act of treachery as exhibited by Absalom against his own father, according to the spokesman of APC Youth Vanguard, is what Alaibe is well known for.
"He used it to edge out Chief Onyema Ugochukwu, the first Chairman of the agency. Godwin Omene, the organisation's first managing director was also edged out of the system in this same treacherous manner.
"The former managing director of the NDDC, Chief Emmanuel Aguarivwado also fell victim to this same treachery. Ask anybody in NNDC, they will confirm this fact. Unfortunately for him, he holds the worst record of service as NDDC MD. He has been linked with massive looting of NDDC funds. We challenge him to point to one project he brought to Bayelsa State as NDDC MD. Alaibe should accept his fate as serial failure and even now the odds are against him".    
Short URL: https://www.africanexaminer.com/?p=25993