Asset Declaration: Supreme Court Dismisses Saraki's Appeal
Featured, Latest News, News
Friday, February 5th, 2016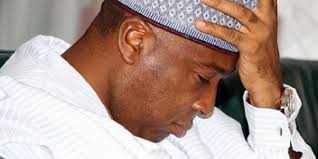 By AGaniyu Nasirudeen
The Supreme Court has dismissed the appeal of the Senate President, Bukola Saraki, on his trial over false asset declaration at the Code of Conduct Tribunal (CCT).
Saraki has been docked three times before the CCT over the allegation, but had insisted that his trial by the special court, was unconstitutional, on the grounds of jurisdiction and the composition of Justice Danladi Umar-led panel.
The Senate President has previously lost in his bid at various lower courts to halt the trial at the CCT.
A seven-man panel of the apex court presided over by the Chief Justice of Nigeria (CJN), Justice Mahmud Mohammed, Friday in a unanimous ruling held that Saraki's appeal including the validity of the charges preferred against him lacked merit.
The leading judgment as read by Justice Wallter Onnoghen, held that contrary to Saraki's appeal, the panel was validly constituted.
The Jurist held that the tribunal has enabling laws and the Constitution which conferred on it, the right to hear quasi-criminal jurisdiction, hence, could validly issue bench warrant, citing the Administration of Criminal Justice Act 2015 as being applicable to the proceedings of the special court.
The Court also condemned the appellant on his attempt to create impression that CCT disobeyed the ruling of a Federal High Court in Abuja.
In the meantime, Saraki has reacted to the ruling, saying he was disappointed in the judgment.
In a statement issued by his Special Adviser on Media and Publicity, Yusuph Olaniyonu, Saraki despite the ruling, expressed confidence that he would be vindicated during the proper trial at the court.
"After listening to the ruling of the Supreme Court in the appeal he filed to challenge the process of arraigning him before the Code of Conduct Tribunal, Senate President, Dr. Abubakar Bukola Saraki hereby states as follows.
"He expresses disappointment over the Judgment of the apex court in the country on the six grounds of his appeal
"He however will like to put it on record that the facts of the substantial matter are not before the Supreme Court since the apex court was only invited to rule on some preliminary issues in the process of commencing the trial.
"The Senate President believes he will have his day in the court to prove his innocence of the charges preferred against him during the trial proper.
"Dr. Saraki will like to thank everyone who has expressed support for him from the beginning of the case.
"He assures everyone that at the end of the day truth will prevail and justice will be served" the Senate President assured.
Following the Friday ruling, the CCT is expected to fix date for hearing proper on the allegations against Saraki.
Short URL: https://www.africanexaminer.com/?p=29990