Benin Republic, Nigeria Partner to Tackle Smuggling
African News, Latest News, West Africa
Thursday, May 31st, 2018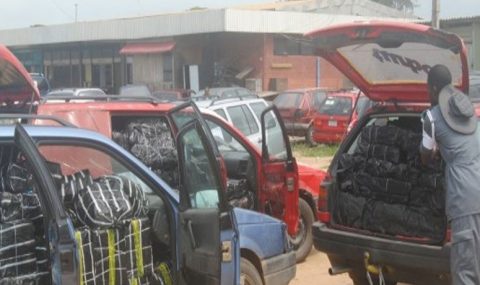 (AFRICAN EXAMINER) – The Republic of Benin and the Federal Government have agreed to work together to step down the activities of smugglers in both countries borders.
The Ambassador of the Republic of Benin to Nigeria, Ms Paulette Vekpa, said this after a closed door meeting with the Minister of Foreign Affairs, Mr Geoffrey Onyeama, on Thursday in Abuja.
Vekpa said that the issue of smuggling had been a major challenge threatening the smooth bilateral relations between her country and Nigeria.
"The issue of smuggling of rice and other products from Benin to Nigeria has been an issue; we don't really like that situation.
"It is the biggest issue because it is affecting the good relationship between the two countries; it is not helping our country either; because Benin is not gaining anything in the smuggling.
"When we met at the meeting of the Heads of State in Lome the other day, I discussed that with the Vice President Yemi Osinbajo and we decided to have a tripartite commission to address the issue.
"These and some other issues are what I came to remind the minister about," she said.
According to her, the bilateral relations between the two countries have been cordial, except the issue of smuggling that has been affecting the relationship somehow.
The envoy, who declined comment on the trade volume between the two countries, maintained that the trade relation was smooth but for the issue of smuggling.
Onyeama told the News Agency of Nigeria (NAN) latter that the issue discussed was how to address the challenge of smuggling and how to enhance bilateral relations between the two countries.
"The most important thing is the smuggling and we are just trying to resolve that; we have set up internal mechanism in form of inter-ministerial committee on that," he said.
The minister said that a tripartite commission had also been set up with Niger, Benin and Nigeria to address the issue of smuggling and to enhance the trade relations.
"The tripartite commission is among the three countries to sit down and see how we can enhance our trade relations both regular and irregular trade," he said.
Onyeama said the Republic of Benin and Nigeria also agreed to resuscitate the joint bi-national commission between them.
According to him, this will further enhance the bilateral relations between the two countries. (NAN)
Short URL: https://www.africanexaminer.com/?p=44214