Bloody Terrorists' Attack Killed 184 Muslim Worshipers in Egypt
North Africa, World News
Friday, November 24th, 2017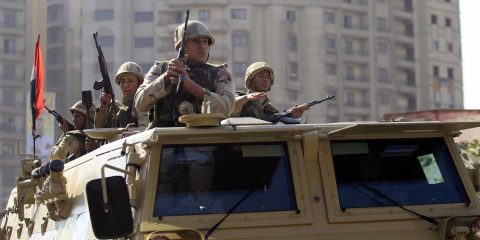 (AFRICAN EXAMINER) – About 184 people were killed Friday as suspected terrorists launched a fatal offensive on a mosque located in Egypt's North Sinai province. Almost 125 people were also reportedly injured in the attack.
According to witnesses' accounts, al-Rawda mosque in the town of Bir al-Abed, near al-Arish, was targeted during the week's Friday prayer.
The Police accounts have it that the suspects in four off-road vehicles on arrival, opened fire on worshippers
There have been regular attacks on the Sinai peninsula blamed on militants, but the latest was the deadliest assault of its kind.
Pictures from the scene showed rows of victims in the blood inside the mosque.
Report alleged that the target seemed to be supporters of the security forces who were praying at the mosque.
The attacked mosque is said to be frequent by members of Sufism – Islamic mysticism, regularly gathered at the mosque.
The terrorist group – IS is said to consider Sufis as heretics.
Following the offensive, Egypt's President Abdul Fattah al-Sisi is to meet security officials to discuss the incident.
Short URL: https://www.africanexaminer.com/?p=41701