Boko Haram: German President Pledges to Hold Talks with Buhari on IDPs
Latest News, World News
Wednesday, February 10th, 2016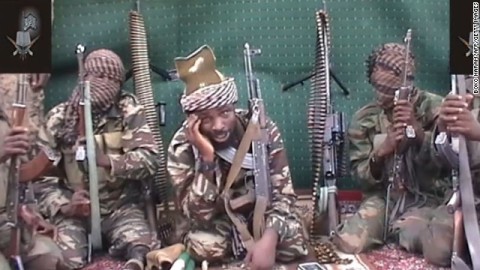 By Eric Ojo, Abuja
ABUJA, NIGERIA (AFRICAN EXAMINER) – President of the Federal Republic of Germany, Mr. Joachim Gauck, has promised to draw the attention of President Mohammadu Buhari to the plight of Internally Displaced Persons (IDPs) as a result of the insurgency and terrorism masterminded by the Boko Haram sect.
The German President who is currently on official visit to Nigeria, said he will discuss the challenges confronting the IDPs with the Nigerian President in order to find lasting solution to the problem.
Speaking during his visit to one of the IDP camps located in New Kuchigoro, a suburb of Abuja on Wednesday, Mr. Guack noted that he was deeply moved by what he saw at the camp crammed full with IDPs who have driven from their towns and villages in the North East region of Nigeria.
He said the reason why they are living in a camp instead of the comfort of their respective homes, is well known, adding that his visit has given him an opportunity to physically see what they are going through.
"We know why you are here, we understand your situation having been driven out of your homes by the Boko Haram sect. I am happy that I have been able to meet and shake hands with many of you. When I have the opportunity to meet with President Buhari, I will tell him about all I have seen here today", he said.
He also promised to share his experience in the IDP camp with his fellow politicians back home when he returns to Germany, adding that members of his high powered delegation who accompanied him to Nigeria, are also watching closely.
Mr. Gauck further noted that although he cannot change everything he has seen at the camp but with cooperation and collaboration with stakeholders, a lot more can be achieved in redressing the situation.
"I cannot change everything I see here now. We also have a huge number of refugees seeking asylum in German due to crisis and wars in their country. We have to stand firmly together in combating the evils perpetuated by terrorist groups such as Boko Haram", he added.
He also expressed satisfaction over the manner the IDPs in Kuchingoro have assumed responsibility of their affairs, adding that what they have done clearly demonstrates that people can collectively resolve take charge of their situation and change some things for their common good.
Also speaking at the event, the Vice President of the Camp, Usman Adamu thanked the German President for visiting them, adding that residents are very optimistic that President Buhari would attend to their needs if the German President table the issue before him.
Adamu said President Buhari as a principled man of change will intervene in addressing the manifold problems facing them at the camp if it is brought to his attention.
In his words, "He will help us out and save us from our deplorable condition if you can do that for us Sir".
Before departing the Camp, Mr. Gauck extended an invitation to the camp Vice President, urging him to pay a visit to Germany to interact further and partner more, adding that the Ambassador of Germany to Nigeria will facilitate his visit.
"I like you. I want to see you in Germany. We will invite you to visit us in Germany and we will be glad to have you come over", he further stated.
Short URL: https://www.africanexaminer.com/?p=30120