Boko Haram: Vigilante Group Kills 70 Boko Haram Members in Adamawa
Featured, Latest News
Friday, May 16th, 2014
Kayode Adelowokan
Fight against terror took another dimension on Friday when members of a vigilante group in Madagali, a town in Adamawa State, killed more than 70 Boko Haram members and handed over seven captured militants to the police.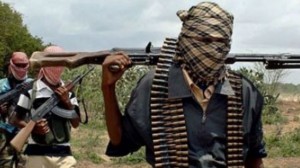 The vigilante group overpowered members of the terrorist group after a tip-off by a local food vendor that the militants were coming to get food before heading out for a major operation.
A source in the village told reporters that the Boko Haram members had planned to raid villages in the area at night, but the vigilante group, laid ambush and waited patiently for the militants.
"As soon as the Islamist insurgents numbering more than 100 showed up in the village to pick up their favourite meals, the vigilantes attacked them, killing most of them in a hail of bullets," the source added.
Friday's attack is the second time in one week that members of local vigilante groups would defeat the sect members.
Two days ago well-armed vigilantes in Kalabalge, Borno State, ambushed a squad of Boko Haram militants.
Several security consultants had stressed the need for such vigilante groups to be empowered to tackle the members of the Boko Haram sect to end the increasing attacks in the north east.
Short URL: https://www.africanexaminer.com/?p=11494