Borno Emirs Shun Emir of Gwoza's Burial Over Fear of Boko Haram Attack
Featured, Latest News, News
Monday, June 2nd, 2014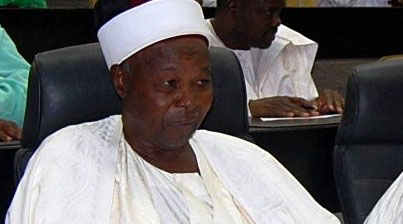 Traditional rulers in the Borno State Emirate Council stayed away from the burial of the late Emir of Gwoza, Alhaji Shehu Mustapha Idrisa Timta, who was killed by Boko Haram gunmen last Friday.
The late emir was buried on Saturday.
Newspot Nigeria's findings revealed that none of the Emirs from Borno state turned out for the burial of their slain colleague owing to fear of being waylaid again by members of the Islamic Sect who have literally taken over many strategic places in Borno state.
The Emir of Gwoza met his untimely death mid-way to Gombe on Friday along with two of his colleagues when Boko Haram militants rained bullets on their convoy, killing him instantly while the other Emirs escaped with injuries.
A large presence of soldiers and other security personnel at the venue of the burial also scared many people away.
Borno state governor, Kashim Shettima, who was accompanied by his deputy governor, Zanna Mustapha and Senator Muhammed Ali Ndume were the highest public officers that showed up during burial ceremony.
Shettima and his entourage left Maiduguri amidst tight security formed by a combined team of police and military personnel numbering about 150.
Soldiers drawn from the 7 Division, Maiduguri as well as a contingent of police special squad and the Civilian JTF who constituted the team that accompanied the state governor all through the 135km stretch of road Maiduguri-Bama road.
Notwithstanding the anguish inflicted on Gwoza by Boko Haram members who killed and maimed the people in repeated raids, many sympathizers turned up for the burial of Emir.
The crowded Islamic funeral was led by the Chief Imam of Gwoza, Alhaji Ibrahim Ahmad Bamanga.
Borno State governor all through visibly fought back tears condemned the actions by Boko Haram as he paid tribute to the late Emir.
He described the late Shehu Idrissa Timta as "a man who spent better part of his reign preaching peace and tolerance".
He said, "This is not day for long speeches; it is a day of mourning of our late father and monarch. May Allah give us yet another monarch who will love his people in the manner Late Shehu Idrissa Timta did in his life time
The late Emir is being described as one King who can keep a venomous viper in his pocket, because of his superlative love for peace and tolerance.
He was known as a monarch who never showed discrepancy on either religion or tribe. The late Emir has lived an exemplary life.  He was a paragon of everything that is good in leadership.
The late Emir was survived by his centenarian mother, 28 children, 14 grand-children and 14 siblings.
newspot
Short URL: https://www.africanexaminer.com/?p=12032