Breaking News! 10 Dead In Another Bomb Blast In Nyanya
Breaking News, Featured, Latest News
Thursday, May 1st, 2014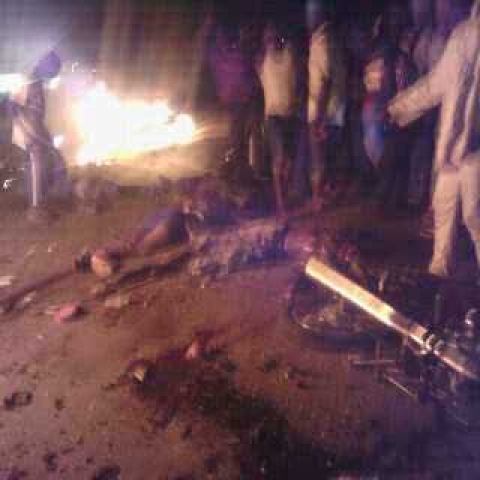 Breaking News!
At least 10 people have been confirmed dead and 13 others have been injured in a bomb blast that ripped through Nyanya, Abuja Thursday, less than three weeks after 75 people were killed in the same area, according to the National Emergency Management Agency, NEMA.
The bomb went off around 8:20 pm, about 10 yards away from the April 11 bomb explosions at the Nyanya park which left about 76 people dead and many injured.
Investigation reveals that the bomb went off in a White Gulf car parked around the area, while military personnel were still struggling to detonate more bombs said to have been planted in two cylinders in the area.
Three vehicles have been reported destroyed by the bomb while those injured have been taken to the Asokoro General Hospital for urgent treatment and the dead deposited at the morgue in the hospital.
Comptroller General, Nigeria Security and Civil Defence Corps, NSCDC, Ade Abolurin said the injured and those dead have been taken to the Asokoro General Hospital.
Military personnel have condoned off the area and evacuated all vehicles and human beings from the scene as they tried to detonate what is suspected to be bombs in the two cylinders in parked vehicle.
Unconfirmed source said three people were seen running out from the Gulf car into the crowd before the bomb went off while the people could not be found by security personnel as they have mixed with the crowd.
Five of the casualties were said to be in their vehicles when the bomb went off, killing them instantly.
The latest blast will be a big blow to a planned West African Economic Forum scheduled for May 4,2014 in Nigerian capital city. Over 1000 delegates will attend the summit to discuss economic prospect of Nigeria and Africa at large.
No group has so far takeng responsibility of the bombing, but it is believed to be from the Islamic terrorists, Boko Haram responsible for most bombing in the North East Nigeria which have so far killed over 2,000 people.
Short URL: https://www.africanexaminer.com/?p=10658