Boko Haram Releases New Video…Leader Threatens To Sell All Abducted Girls
Breaking News, Featured, Latest News
Monday, May 5th, 2014
Fears for the fate of more than 200 abducted girls turned even more nightmarish Monday when the leader of the Islamist militant group, Boko Haram, that kidnapped them announced plans to sell them.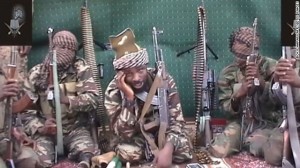 "I abducted your girls. I will sell them in the market, by Allah". The group leader said in a video first obtained by Agence France-Presse.
"There is a market for selling humans. Allah says I should sell. He commands me to sell. I will sell women. I sell women". He continued.
In his nearly hourlong, rambling video, Shekau repeatedly called for Western education to end.
The outrageous threat means the girls' parents' worst fears could be realized. Parents have avoided speaking to the media for fear their daughters may be singled out for reprisals.
The video won't intimidate or deter Nigeria from efforts to save the kidnapped girls, the Nigerian government responded.
Weeks after the girls' April 14 kidnapping, Africa's most populous country seems to be no closer to finding them, triggering complaints of ineptitude — some of which is expressed on Twitter with the globally trending hashtag #BringBackOurGirls.
On Sunday, about 100 demonstrators gathered outside the Nigerian High Commission in London, chanting, "Bring them back!" and "Not for sale!"
Crowds from Los Angeles to London rallied Saturday as well.
Short URL: https://www.africanexaminer.com/?p=10873