Breaking News! Michael Otedola dies at 87
Breaking News, Featured, Latest News
Monday, May 5th, 2014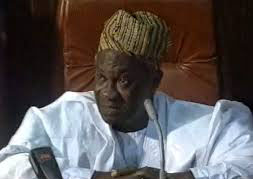 A former Governor of Lagos State, Sir Michael Agbolade Otedola, is dead.
The former governor's widow, Lady Doja Otedola, in a statement said Otedola died on Monday morning at the age of 87 years, .
The statement reads, "Sir Michael Agbolade Otedola passed away this morning at 87. Funeral arrangements to be announced later by the family."
It was learnt that the former governor died of a stroke related ailment that has kept him from public glare for the past five years.
Otedola was born on July 16, 1926 at Odoragunsin in the Epe Local Government Area of Lagos State.
He won a scholarship to study Journalism at the Regent Street Polytechnic, London and graduated in 1958.
Otedola became an information officer in the Western Nigeria Government when he returned to the country in 1959 and was later appointed the Editor of the Western Nigeria Illustrated.
In 1961, he moved to the Western Nigeria Television/Western Broadcasting Service and in 1964, he joined Mobil Oil Group of Companies.
Otedola continued as a consultant to Mobil after leaving the company in 1977 before joining politics.
He was elected governor of Lagos State from 1992 to 1993 on the platform of the National Republican Convention.
The late statesman is the father of billionaire owner of Zenon Petroleum and Gas Limited, Femi Otedola.
Short URL: https://www.africanexaminer.com/?p=10864