British Banker Receives Life Imprisonment Over 2 Indonesians Murder
Latest News, World News
Tuesday, November 8th, 2016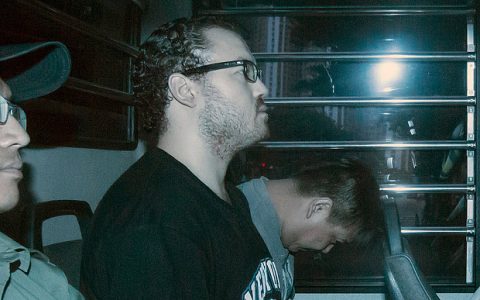 BALTIMORE, MD (AFRICAN EXAMINER) – British banker Rurik Jutting has been found guilty of killing two Indonesian women in Hong Kong.
Consequently, he was sentenced to life in prison for the killings of Sumarti Ningsih and Seneng Mujiasih.
Jury took around four hours to find an expressionless the convict, who denied murder but admitted manslaughter. The court found him guilty on both counts.
The victims' mutilated bodies were found in Jutting's apartment in November 2014. Murder carries a mandatory life sentence in Hong Kong.
In a statement read by his lawyer, Jutting expressed remorse for the crime and accepted his actions were "horrific".
"I remain haunted daily both by memory of my actions… and by knowledge of the acute pain I have caused their loved ones, not least Ningsih's young son," he said.
"The evil I have done cannot be remedied by me in words or actions. Nevertheless, for whatever it may be worth, to Ningsih's family and friends, and Mujiasih's family and friends, I am sorry, I am sorry beyond words'' Jutting pleaded.
Reacting, the Deputy High Court Judge Michael Stuart-Moore, who recalled the trial had been "made to dredge into depths of depravity" over Jutting's actions, rejected the convict apology, hence, his life imprisonment ruling.
But Ms Mujiasih's family complained about the ruling, regretting they were "devastated" and that they had hoped Jutting could be executed "if possible".
In contrary, Ms Ningsih's mother Suratmi accepted the ruling.
Short URL: https://www.africanexaminer.com/?p=36354