Budget Padding Scam: Jibrin To Appear Before Ethics and Disciplinary Committee
Featured, Latest News, News
Tuesday, July 26th, 2016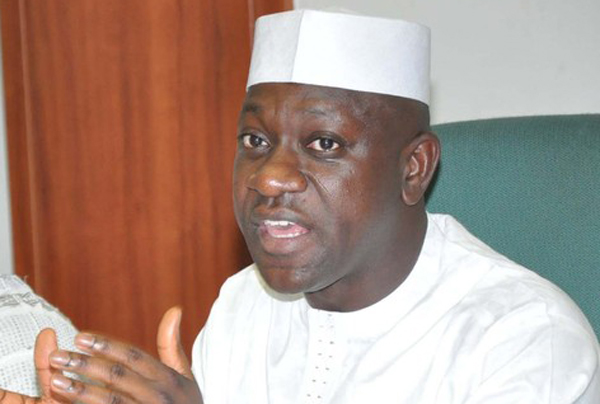 Ayodele Afolabi, Abuja
ABUJA, NIGERIA (AFRICAN EXAMINER) – The embattled former Chairman of the House of Representatives Committee on Appropriations, Abdulmumin Jibril is to face the Ethics and Disciplinary Committee over his alleged unruly public actions after his removal as chairman.
Speaker, Yakubu Dogara had on Wednesday, July 20, 2016, announced Jibrin's removal from his position and immediately replaced him by Hon. Mustapha Bala Dawaki.
A statement signed by the Chairman House Committee on Media and Publicity, Abdurazak Namdas on Tuesday gave further insight into why Jibrin was removed.
According to him, his removal was based on sundry acts of misconduct, incompetence, total disregard for his colleagues and abuse of the budgetary process, among others.
"a. Immaturity and lack of capacity to handle the Office of Chairman, Appropriations:
One of the fundamental reasons why the House Leadership removed him is that, he was found not to be fit and proper person to hold such a sensitive office which exposes him to high officials of government at all levels.
Furthermore, in the course of the performance of his duties as Chairman of Appropriations Committee, it became evident that he did not possess the temperament and maturity required for such a high office.
b." Tendency and proclivity to blackmail colleagues and high government officials; misuse and mishandle of sensitive government information:
He was in the habit of collating, warehousing and manipulating sensitive information to blackmail people sometimes apparently for pecuniary purposes. And by the virtue of his position as Appropriations Chairman, he meets with very high and senior public officers at all levels.
The Speaker and the Leadership were inundated with complaints by heads of Ministries, Departments and Agencies (MDAs) over harassment from the House Appropriations Chairman to engage in conduct and acts unbecoming of their offices.
The Leadership lunched an internal investigation into these allegations and was largely satisfied that action had to be taken to remove him, in the interest of the integrity of the House.
One clear example is the insertion of Funds for the so called Muhammadu Buhari Film Village in his Constituency in Kano State without the consent or solicitation of Mr. President. This has brought both Mr. President and the government to disrepute.
Again, it was found out that he was fond of inserting projects into prominent persons' constituencies without their knowledge to curry favour and possibly use it as a means of blackmail against them when necessary.
One of such is the numerous projects he claimed in a Channels TV interview in April 2016, to have cited in Mr. President's home town of Daura, Katsina State without Mr. President's solicitation or knowledge, in a desperate attempt to blackmail Mr. President as an answer and justification for allocation of N4.1 billion to his constituency when confronted by the interviewer.
He did not stop there. Hon Abdulmumin went about soliciting Honourable members to nominate projects for him to help them include in the Budget. When called upon to defend his actions as Appropriation's Chairman, all he did was to be calling names of those members and the amount he helped include for them in the Budget in an unsuccessful bid to silence them.
Most of the affected members took serious exceptions to his despicable antics and sundry acts of blackmail and protested to the Leadership to prevail on Hon. Abdulmumin to expunge from the Budget what he claimed he allocated to them since they did not solicit for those projects.
To attempt to drag the name of Mr. President, Honourable members and others to his new low through sundry acts of blackmail was one of the matters the House Leadership found off limits and totally unacceptable."
Namdas added that the Leadership also observed with embarrassment that since his mismanagement of 2016 Budget process, every time Hon Abdulmumin gets up to speak on the floor of the House, there was spontaneous chorus of ole! ole,! ole! or "thief! thief! thief! Barawo! Barawo! Barawo!" from Hon. members which climaxed in a motion to have him removed as Chairman, Appropriations.
"It is regrettably true that Hon Abdulmumin was entrusted with critical aspects of the budget, but he is not the sole author of the budget as he appears to be portraying himself. Every reasonable person knows that it is a bare faced lie. His stories without corroboration from anyone who was deeply involved in the Budget process is, mere tales by moon light, a fitting story for bed time. If he has any witness, let them speak up in his support. Apparently, he doesn't know that no one can be convicted even in the court of public opinion based on the evidence of one man."
Short URL: https://www.africanexaminer.com/?p=34519