Buhari Mourns Former President Castro's Death; As Cuba Announces 7 Days National Mourning
Featured, Latest News, World News
Saturday, November 26th, 2016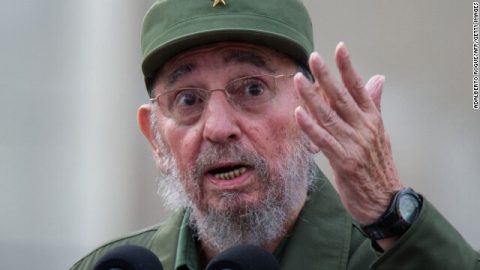 BALTIMORE, MD (AFRICAN EXAMINER) – President Muhammadu Buhari said he received with profound sadness the news of the death of Cuba's longest serving President and revolutionary icon, Fidel Castro.
Castro died Saturday at age 90.
Mr. President in a statement issued in Abuja by his SA on media and publicity, Mr. Femi Adeshina stated he offered deepest condolences to Cuban President Raul Castro, and the people of Cuba on the passing early Saturday of the legendary leader, who passionately served his people for almost half a century.
The President assured of the sympathy and solidarity of all Nigerians as Cubans mourn the exit of this remarkable leader who against all odds, stirred uncommon development in sports, education and healthcare sectors of his nation, even to the benefit of other nations.
Buhari said he is delighted that Fidel Castro lived to see improved ties with the United States, noting as a great friend to Africa, countries in the Global South and the Non-Aligned Movement, believed that Castro's place in history is assured, given his sustained successful commitment and towering role in the liberation and anti-colonialism struggles in Africa.
The Nigerian leader said his prayers and thoughts are with Castro's family, friends and many admirers as they go through this period of national mourning and exit of a ''truly admired selfless global leader''.
Castro's younger brother and successor President Raul Castro announced the news on state television Saturday.
Castro toppled the government in 1959, introducing a Communist revolution. He defied the US for decades, surviving many assassination plots.
While his supporters argued he had given Cuba back to the people, the opponent considered him as a dictator.
President Castro told the nation in an unexpected late night broadcast on state television that Fidel Castro had died and would be cremated later on Saturday.
A period of official mourning has been declared on the Island until December 4, 2016 when his ashes will be laid to rest in the south-eastern city of Santiago
In April, Fidel Castro gave a rare speech on the final day of the country's Communist Party congress.
"I'll soon be 90," the former president said, adding that this was "something I'd never imagined".
"Soon I'll be like all the others," Fidel Castro said then.
Short URL: https://www.africanexaminer.com/?p=36655