Buhari Names Ibim Semenitari As Acting Managing Director Of NDDC
Featured, Latest News, News
Monday, December 21st, 2015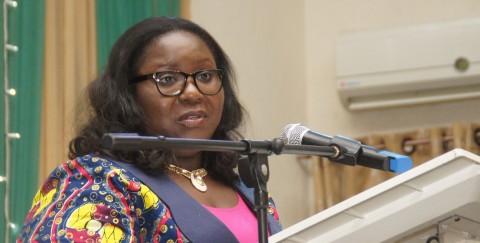 President Muhammadu Buhari has sacked the Chairman of Niger Delta Development Commission (NDDC), Mr Bassey Dan Abia.
Bassey Dan Abia, an indigene of Akwa Ibom state, was appointed by former President Goodluck Jonathan in 2013.
Following the development, Mrs Ibim Seminitari, a former commissioner of information in the administration of Rotimi Amaechi, former governor of Rivers state, has been appointed as the acting Managing Director of the commission.
Mrs. Semenitari, an award winning journalist also served in the Communication Directorate of the Buhari Presidential Campaign Organisation. She is married to Henry Semenitari, a former Managing Director of Unity Bank.
Profile of new NDDC Boss, Ibim Semenitari
Ibim Semenitari nee Toby, is an award winning investigative journalist, editor and publisher who has worked for 20 years with some of Nigeria's and America's leading titles. She has also worked as Journalism Trainer/Editor with the BBC World Service Trust.
She was the first Nigerian female journalist to win the CNN African Journalist of the Year Awards. She won 2nd place, print journalism in the CNN African Journalist Award in 1997 for her reports in the Nigerian print media. She is a two-time winner of the Nigerian Media Merit Award and a three-time winner of the Diamond Award for Media Excellence amongst several others. Besides being an award winner herself, Ibim is a mentor to several award winning journalists.
She took a degree in English at the University of Benin, Benin City, and then plunged straight into journalism. Her career has taken her from the Daily Times newspaper, through Newswatch magazine, Sunray Group of Newspapers to the Tell group where she launched a weekly business magazine, The Broad Street Journal, in 2005.  After leaving TELL, Ibim worked as a Journalism Trainer/ Editor with the BBC World Service Trust before launching her own publication, The Business Eye, an investigative weekly business newsmagazine.
She has contributed as a resource person to journalism training workshops organized by UNICEF, the World Bank, Freedom House, the BBC and International Labour Organisation (ILO).
A professional whose work flows from her core values as a Christian, she is a committed to the upholding of people's rights, the sanctity of the family as the primary unit of society and responsible leadership for the community. She is married with children.
Short URL: https://www.africanexaminer.com/?p=28787