Buhari Tasks Health, Information Ministries On Polio-Free Nigeria 2017
Featured, Latest News, News
Tuesday, July 12th, 2016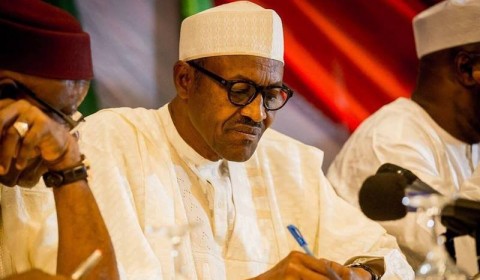 …Thanks US, Canada On Free Poll
ABUJA, NIGERIA (AFRICAN EXAMINER) – President Muhammadu Buhari Tuesday in Abuja directed the Federal Ministries of Health and Information and Culture, to reinvigorate their strategies to tally with State governments, to ensure that Nigeria is finally certified polio free by 2017.
Mr. Buhari gave the directive while receiving the World Health Organization (WHO) Regional Director for Africa, Dr Matshidiso Rebecca Moeti, at the State House, Abuja.
President Buhari established that international partnerships were also needed to sustain Nigeria's polio-free status.
In a statement issued by his SSA on Media and Publicity, Garba Shehu, Buhari said: ''we have not recorded any case of polio in the last two years but we should not be complacent.
''The breakdown of law and order in the North East has posed challenges to regular immunization.
''The situation and the condition of children in Internally Displaced Persons camps around the country is very pathetic.
''But I know that the Federal and State governments in partnership with international organizations and NGOs are doing so much to provide healthcare, rebuild infrastructure and facilitate voluntary return of displaced persons to their communities".
The President told the visiting WHO envoy, who was accompanied by Nigeria's Minister of Health, Prof Isaac Adewole and his Minister of State, Dr Osagie Ehanire, that his administration would continue to accord priority to healthcare through regular funding of public health related programmes.
Mr. President added under the Federal Government health intervention programme, the Federal Ministry of Health would provide free surgery to 10,000 poor and needy Nigerians who are registered with the National Health Insurance Scheme.
The programme, which will commence on July 18, in 46 health facilities across the country, will also extend free breast and cervical cancer tests to 18,000 Nigerians and free diabetes and hypertension tests for 500,000 Nigerians.
In her remarks, Dr Moeti commended the FG's health programme and pledged continued support of the organization on health development in Nigeria.
In a related development, President Buhari expressed appreciation for the important role the United States (US) Government played in the success of the 2015 general elections in Nigeria.
He said this Tuesday while the outgoing US Ambassador to Nigeria, Mr James Entwistle, visited him at the State House. He recalled that the U.S insistence on free, fair and violent-free elections largely contributed to the deepening of democracy in the country.
"The U.S support before, during and after the 2015 elections was vital to Nigeria's stability and I will never forget the role they played in the stability of Nigeria.
"We were lucky to have had an INEC Chairman who was competent and courageous.
"Mr. Ambassador, you occupied a position at a very strategic time in Nigeria's history and I hope our historians will record this because it meant so much for our stability.
"I hope you write a book on your experience in Nigeria. The commitment of U.S in supporting Nigeria has been unprecedented, '' the President told the outgoing U.S envoy in a statement issued by his Media and Publicity aide, Shehu.
He also thanked the Americans for their military, intelligence and humanitarian support to Nigeria on the ongoing war against Boko Haram insurgency.
He said Nigeria also valued U.S contributions to promoting regional peace and stability through the instrumentality of the G7.
President Buhari also received in audience the outgoing High Commissioner of Canada to Nigeria, Ambassador Perry Calderwood.
The President commended the Government of Canada's humanitarian assistance to Nigerians displaced by the insurgency in the North East, and their commitment to polio eradication in the country.
He highlighted the Federal Government's effort to facilitate voluntary return of displaced persons in addition to ensuring that conditions in North-eastern Nigeria improve significantly before the next farming season.
In their separate remarks, Ambassadors Entwistle and Calderwood expressed concern on the deteriorating humanitarian situation in the North East with looming reports of food crisis and malnutrition.
Entwistle said the bilateral relationship between both countries had remained very vibrant and cordial.
"I had a marvellous three-and-half years in Nigeria and I am grateful to have been involved in the memorable elections in 2015,'' he said.
On his part, Calderwood conveyed Prime Minister Justin Trudeau's desire to strengthen ties with Nigeria in Canada's quest for partnership on international engagements, including its bid for a non-permanent seat in the UN Security Council, 2021-2022
Short URL: https://www.africanexaminer.com/?p=34176