Buruji Kashamu Insists He Is Not Wanted In US, Says It's A Case Of Mistaken Identity
Featured, Latest News
Saturday, January 25th, 2014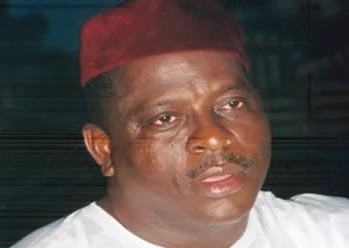 Ayo Balogun, Lagos
A chieftain of the ruling People's Democratic Party (PDP) Buruji Kashamu  has insisted that he has no case to answer in the US saying the case against him has been pronounced as mistaken identity by British courts.
In a statement made available to African Examiner and signed by his media Aide, Austin Oniyokor, the politician strongly denied a media report that says he is still wanted by the US Dept Of Justice in America for a drug related offences.
Oniyokor's statement partly reads thus:
"We wish to state for the umpteenth time that Prince Buruji Kashamu is not the one being wanted for any drug-related case in the US. The warrant of arrest issued against him 20 years ago in the US collapsed once the British court held that it was a case of mistaken identity.
"When Prince Kashamu was arrested in London upon the mere suspicion that he fits into the description that the suspects gave, after a rigorous trial spanning three and a half years, he was released once the court found that it was a case of mistaken identity.
"It should also be noted that the case itself is statute barred, according to the US laws, by reason of the fact that it failed to bring any fresh action against Prince Kashamu within two and a half years after his release by the British court.
"Persuaded that he is innocent of charges against him and based on his acquittal and eventual release by the British courts – the third time in a row – Prince Kashamu instructed his lawyers in the US to file an action in the US court seeking to quash the charges against him. Of course, this is inclusive of the initial warrant of arrest that was used to arrest him in London. He took this step to clear his name, once and for all.
"The point that should be noted here is that the latest action in the US was commenced by Prince Kashamu in order to clear his name; not the US authorities.
"We reckon that it will be illogical to expect the US government to drop the warrant and charges without a judicial pronouncement, especially when, according to them, some of those involved are still at large.
"Finally, we wish to state that under US-UK Extradition Treaty, individuals are only extradited after a UK court has reviewed the case and determined that it meets the legal requirements for extradition.
"In this instance, the unassailable British court reviewed it, found that if falls short of its high standard and freed Prince Kashamu. He is free indeed, and no amount of sponsored and twisted reports can equate a judicial pronouncement!"
Recall that one of the reasons cited by former President Olusegun Obasanjo for withdrawing from the activities of the PDP was because Prince Kashamu, according to him a wanted man, is playing a key role in the affairs of the party in South-West.
Short URL: https://www.africanexaminer.com/?p=7640