CAN, PFN Leaders Commend Amaechi
Featured, Latest News
Friday, February 14th, 2014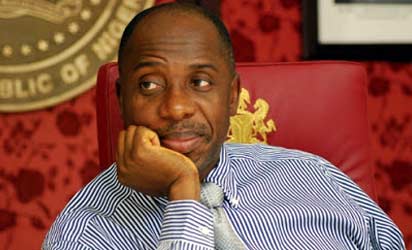 Leaders of Pentecostal Fellowship of Nigeria (PFN), Rivers State Chapter and local branches of the Christian Association of Nigeria (CAN) in the state have commended Rivers State Governor and Chairman of Nigeria Governors' Forum, Rt. Hon. Chibuike Rotimi Amaechi for his achievements.
They however urged him to remain strong and expect victory from the Lord for his political battles.
PFN and CAN leaders spoke when they came to visit the Governor and to pray for him at Government House, Port Harcourt, Thursday.
Dr Minaebi Dagogo-Jack speaking on behalf of Pentecostal Leaders' Forum said they came to appreciate Governor Amaechi for his stand for justice and good governance.
"We are here to appreciate you for your stand for justice, your stand for good governance, your stand for true development for more than six years in Rivers State. We are also here to encourage you to remain faithful as you have always been in God and also to pray with you so as to increase your faith. We are not unaware of the condemnable fight against you and particularly against Rivers State by agents who do not want the peace and progress of Rivers State at heart.
"God has brought you to fight for the poor people.  We are here to encourage you in this light that keep on having faith in God, the battle is of the Lord and he who is with God is of majority", Dr Dagogo-Jack said.
He said Rivers State is at the centre of the propagation of the gospel of Jesus Christ, so God would secure the state against any political aggression.
On his part, Rev. Georgewill Peter on behalf of CAN Chapters in the Local Government Areas, noted with delight the aggressive contributions of the governor to the state.
He described Governor Amaechi as one sent by God to salvage His people and expressed the support of CAN to his administration.
"God has created you to help the poor, you have decided to help the poor.  You decided to send poor ones to enter plane which they could not have entered to travel to Israel (for holy pilgrimage). We want to tell you that we are behind you.  'Fear not', like God would always say.  Victory is always ahead of you.  'Be not dismayed', God says 'I am with you'.  We have nothing to give to you than to support you and we are sure that nothing can pull you down. You are already set up on a high hill.  Already, eyes are looking at you at the high hill.  No amount of combined effort can bring you down and that is our own prayer.
"Having seen the schools you have been building for us, having seen American secondary schools you have been building for us, having seen health centres, having seen so many, our roads, having seen light, having seen everything,  His Excellency Chibuike, 'God is my power', we are behind you because we are looking at you as somebody who God has committed to take us to where He will take us to and for that, we say on behalf of the Local Government CAN, Rivers State, we say may God continue to strengthen you, may God continue to protect you and your family in Jesus Name"!
Responding, Governor Amaechi thanked them for the visit especially as they made time to visit him.
He said: "let me start this meeting by thanking God for you people accepting to come.  Men of God are not less busy.  You are by far busier than us because you tend to spirit and humans and most of the things that happen in society can change with the kind of efforts you put in that society, so I'm privileged to be in your presence".
Short URL: https://www.africanexaminer.com/?p=8304