Chime's kinsmen Kick Against His Senatorial Ambition, Back Ekweremadu for 4th Term
Featured, Ignatius Okpara, Latest News, News
Friday, January 10th, 2014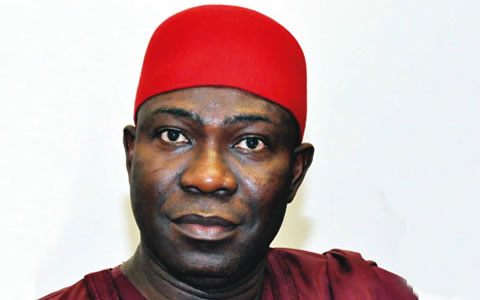 IGNATIUS OKPARA, Enugu
The perceived ongoing cold war between Governor Sullivan Chime of Enugu state and Deputy senate president (DSP), Ike Ekweremadu, Friday took a new twist as the governor's kinsmen in  Umuneke Udi clan asked the lawmaker to re-contest the Enugu west Senatorial seat for the 4th time.
African Examiner reports that Umuneke Udi clan is made up of several  communities in Udi local government area of Enugu state.
The development is coming amid wide speculation that Governor Chime who also hails from Udi area has expressed interest to replace Ekweremadu in 2015 general election.
Rather than supporting the Governor's ambition, his kinsmen, said they are solidly behind Ekweremadu's 4th term bid, based on achievements of the DSP in their communities more than Chime their brother.
For them, National Assembly should not be a dumping ground for ex-Governors who do not have any thing to offer.
The people also noted that Ekweremadu has had quality representation in the national Assembly since his election into the upper chamber of the NASS in 1993, adding that has given voice to their constituency and the south east in general.
Briefing newsmen in Enugu, President Umuneke Progressive Front, Hon. Emeka Aneke stated that their people at a special New Year Conference reviewed the socio economic, political and infrastructure developments in the clan and commended Ekweremadu for attracting projects that sustain transformation in Udi communities.
They pointed at Ekweremadu's rural transformation agenda through numerous constituency projects and appointment of their people into positions of service in federal agencies and parastatals.
They noted that Ekweremadu's commanding height as Deputy senate president, speaker of ECOWAS parliament and chairman of National Assembly committee on constitution review is a clear manifestation of his national appeal and key player in geo- politics of Nigeria.
According to them, "Consequent upon the foregoing, the Umuneke Progressive Front have passed a vote of confidence on senator Ekweremadu and urge him to re-contest the senatorial seat of Enugu west district for sustained service to the people of Enugu west, Enugu state, South East and Nigeria at large.
"We will continue to support senator Ekweremadu in his political endeavour and wish him good health and God's guidance in his service to humanity," they said in their communique made available to newsmen.
Short URL: https://www.africanexaminer.com/?p=7089