Collin Powell Set for Global Leadership Summit in Lagos
Latest News, News
Thursday, November 7th, 2013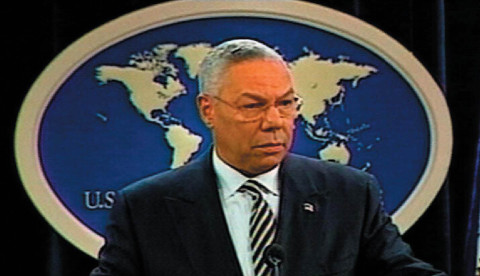 Kayode Adelowokan, Lagos
Former US Secretary of State, General Collin Powell will lead other eminent speakers to the Global Leadership Summit scheduled to hold in Lagos at Shepherd's Flock International Church, Ikeja.
The event is scheduled for two days and holds from Friday November 22 to Saturday, 23.
Other speakers expected include Bill Hybels, founder of Willow Creek Association, Dr. Mike Okonkwo, the presiding Bishop of TREM, Dr. Brene Brown, Research Professor, University of Houston and Liz Wiseman, CEO, Wiseman Group, USA among others.
At a briefing in Lagos, Senior Pastor of the Shepherd's Flock International Church, Rev. Tony Akinyemi revealed that the conference which will be beamed via a live telecast has a goal to strengthen leadership skills and development across businesses, governments, schools, religions, families and other spheres of influence.
Furthermore, Rev. Akinyemi said: "The participants are expected to cut across Church and Ministry leadership, business leaders, political office holders, leaders of government agencies, etc"
"Besides, for those who are interested in the program, but cannot afford to pay for their participation fee, Rev. Akinyemi, assured that some of their partner organizations have volunteered to sponsor such people.
"Moreover, he said the Summit will bring about visionary and purposeful leadership in our Society. It will also produce selfless Leaders who operate on the stand of righteousness, with the interest of others at heart.
"Given the fact that we are all agents of change, the Summit will produce people who are healthy, strong and very productive wherever they find themselves, and equally ready to influence others positively.
Shedding more light, Rev. Francis Olubambi, National Director, Vision International Christian Ministry, stressed that the need for leadership development in our nation cannot be over-emphasized, given the numerous challenges confronting us today as a result of poor leadership.
Therefore, the Global Leadership Summit is a platform to help leaders unleash the leadership gift, so that all other gifts can flourish.
His words, "the Global Leadership Summit helps to inspire, stretch and equip leaders who will be committed to the cause of transformation and bringing God's kingdom on earth. I do believe this is the time to sharpen our leadership skills to become better and winning leaders, because when a leader gets better, everyone becomes better".
Short URL: https://www.africanexaminer.com/?p=4472