Confab Approves Independent Candidacy For Election
Latest News, News
Thursday, June 26th, 2014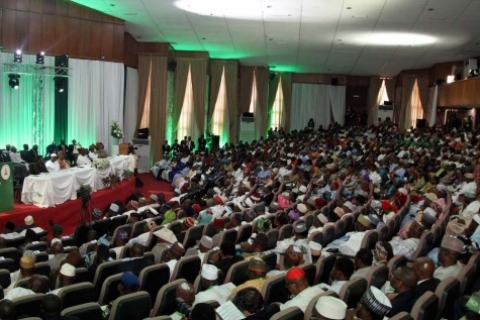 The National Conference Committee on Politics and Governance has recommended independent candidacy in the electoral system to expand the country's political space.
Co-Chairman of the committee, Prof. Jerry Gana, made the recommendation while reading the committee's report on Thursday in Abuja.
Gana said the absence of a provision for independent candidacy in the 1999 constitution had unnecessarily restricted the democratic space.
He said, "Every Nigerian, who meets the specified condition in the Electoral Act should be free to contest elections as an independent candidate.
"Accordingly, Section 221 of the 1999 constitution should be repealed and replaced as follows: 'Every Nigerian, who meets the specified condition in the Electoral Act, should be free to contest any election as an independent candidate'.''
On matters of party politics, Gana said the present party system was characterised by weak structures, lack of internal democracy and poor funding.
"The system is also characterised by the lack of accountability, absence of ideology and the overbearing role of godfathers," he said.
To address the problem, Gana said the committee was proposing that the government should not fund any political party.
"Political parties should be funded through membership subscription, donations, sale of party cards, souvenirs and other fund raising activities," the ex-minister of information said.
He added that the committee also proposed that as a requirement for registration by the Independent National Electoral Commission, a party must have a constitution stating clearly its ideology, policies and goals for the country.
The committee recommended that government should re-visit the salary structure of civil servants.
He said, "Pay civil servants well so that they can meet their basic obligations to address poverty and social insecurity problems. Government at all levels should reduce the cost of governance so as to have more money for capital development projects.''
PUNCH
Short URL: https://www.africanexaminer.com/?p=13561