Confab Recommends Removal of Immunity Clause
Featured, Latest News, News
Thursday, June 12th, 2014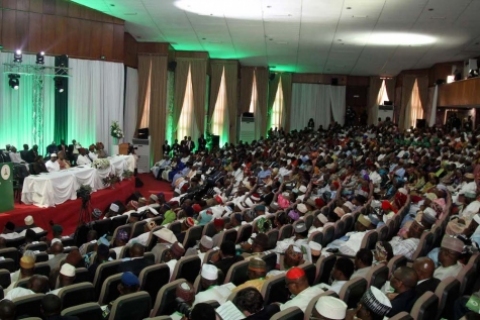 Delegates at the ongoing National Conference on Thursday unanimously voted for the removal of immunity clause from the nation's constitution.
This implies that President Goodluck Jonathan, governors and the top echelon of the National Assembly will no longer be protected by the constitution whenever they infringe on the law.
According to the conference delegates, the removal of immunity clause should not only apply to criminal charges as earlier recommended by the Conference Committee on Economy, Trade and Investment, but on all cases.
The Deputy Chairman of the conference and former Minister of External Affairs, Prof. Bolaji Akinyemi, had read out the recommendation from the committee's report but was informed by some of the delegates that a similar recommendation had earlier been made.
However after searching for the said proposal supposedly made earlier, it was discovered that, it was not considered.
Akinyemi therefore called on the delegates to vote on the matter, to determine whether the said amendment should be passed.
The original committee proposal reads, "The immunity clause should be removed if the offences attract criminal charges to encourage accountability by those managing the economy."
But it was amended to indicate that it should not be restricted to criminal charges but to all charges.
When it was put to vote, the delegates overwhelmingly voted for the removal, saying immunity clause had contributed in no small measure to the present state of corruption and corrupt practices in the country.
Also adopted for recommendation was that government should pass an anti-trust law that would ease the cases of corruption and help in revitalising the nation's economy.
The confab also passed for onward recommendation the Socio-Economic Rights as provided for in Section 16 of the 1999 Constitution.
Short URL: https://www.africanexaminer.com/?p=12531