Cultism: Rector Warns Students, Lecturers on Sexual harassment
Ignatius Okpara
Saturday, September 14th, 2013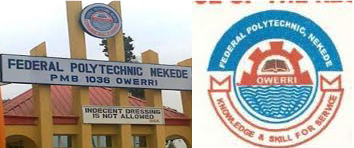 Ignatius Okpara, Enugu
The Rector of the Federal Polytechnic NeKede, Owerri, Imo state, Dr.  (Mrs) Cele Njoku, has warned students of the institution against cultism and other forms of social vices, saying any one caught would be shown the exit door.
Dr. Njoku, who read the riot act to the students weekend, during a religious event held at All Saints Catholic Chaplaincy in the Polytechnic, said the school has zero tolerance for cultism and other campus vices.
Besides, she also warned lecturers of the institution to desist from all kinds of misconduct especially as it concerns female students sexual harassment.
The Rector, who spoke through her Deputy, Mrs. Nneoma Eleke, vowed that the school management would not hesitate to send any student found wanting in that regard packing.
Dr. Njoku, however, advised those who already belong to various cult groups to better denounce their membership of such unholy organization in their own interest rather than being fished out by the school authority.
While urging the students to always make hard work their watch word, the Rector also warned lecturers in the school to desist from all forms of misconduct especially exploitation of students, saying henceforth,"any lecturer caught in any act of indiscipline, will be summarily dismissed from the institution"
Also speaking at the ceremony, Registrar of the polytechnic, Mr. Mathew Aligbe, had enjoined the students not to hesitate in reporting to the management any staff, be it Academic or non
Academic who exploits or harasses  them sexually in the case of female students.
He noted that the school authority, had in the past suspended some lecturers including Heads of Departments (HOD) found wanting, especially on the issue of female students sexual harassment.
"We have done that in the past, and will continue to do it when necessary" the Registrar declared
Short URL: https://www.africanexaminer.com/?p=1083